The Lineage of John Kevin Gordon, Lord Plender
(excerpted and annotated by Dennis E. Power)
<![if !vml]>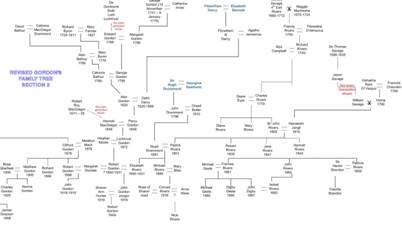 <![endif]>
<![if !vml]>

<![endif]>
(Excerpt from 105th edition of  Burke's Peerage, Baronetage & Knightage, 1970)
Lineage
The Earl of Plender, Glamorgan (John Kevin Gordon, DSC, SS, DSO, KCB,)
Marquis of Dunstanburgh and Viscount Sandbourne, Viscount Lochinvar, and Baron Montagu of Montagu, of England, Laird of Shaws, Cramden, Esquire of Woodbury, Tasmania. Privately educated Commonwealth of Australia; served World War II late Captain US Army Corps, assigned Office of Strategic Services detached duty in India, China, Burma, Philippines, Indochina, b. November 22, 1919. M. 1948 to Sharon Ann, dau. of the late Alexander Hunter<![if !supportFootnotes]>[1]<![endif]>, fmr Representative of US Congress, NY district and of his wife, Bianca Carter, of Carterville, Virginia, and by her had issue,
Robert Alan Gordon b.1949 educated, Eton, Royal Military Academy Sandhurst, Royal Academy of Dramatic Arts, acted in several motion pictures before taking residence in Equatorial Africa.
His Lordship assumed the title of Earl of Plender in 1955, succeeding his distant cousin, Sir Harrison Gordon who perished in Birmingham, 1941 during a Luftwaffe bombing raid. Sir Harrison's wife, Claire D'Ubervilles and daughter, Cynthia also perished at this time. His son, Reginald had predeceased his Lordship perishing at the Battle of Dunkirk. Both Sir Harrison and Reginald having died without further issue the peerage was deemed to be extinct. The peerage had devolved upon Sir Harrison upon his marriage to Claire, who was the hereditary Countess of Plender.  A diligent solicitor hired to settle the estate discovered that Harrison Gordon's father had a younger brother who had emigrated to America and had issue. Further investigation revealed that the living descendent was a war hero and so despite being an American was worthy of assuming the peerage, should he decide to become a British citizen. John Gordon was so agreeable and so the Peerage was restored under his name.
THE PATERNAL LINEAGE
The father of John Kevin Gordon<![if !supportFootnotes]>[2]<![endif]> (also known as Lord Plender or Jongor) was Robert Gordon. Robert Gordon was born near Gunnison, Colorado on the Highland Ranch in 1892 to Lochinvar (Lucky) Gordon and Heather Moore. Robert was privately educated with the intention that he would assume ownership of the family ranch upon his seniority. Despite excelling at the skills needed to run the ranch, Robert's interests lay elsewhere. At the age of sixteen he took his first flight and was immediately entranced. This was in a balloon owned and operated by the Tyler-Hanna Circus which passed through Colorado. Claiming to be eighteen, Robert took a job at the circus as a roustabout. By the time the circus had reached the Midwest, Robert was operating the balloon and doing some of the promotional flights.
In Ohio, Robert and the circus balloon became involved in rescuing a young lady from a group of cultists who planned to sacrifice her upon the Serpent Mound. The young lady was Elizabeth Rivers, who was a protégé of Kate Reade. Robert Gordon aided Elizabeth and the Reades in wiping out the cultists.<![if !supportFootnotes]>[3]<![endif]> Entranced by the variety of flying devices that the Reades had invented and built, Robert Gordon quit the circus, went to work for the Reades, often adventuring besides them.
Robert Gordon and Elizabeth married in 1915. When the War between the Central Powers and the Allies broke out, the Reades sent Frank III and Kate to assist the British and French. Robert and Elizabeth accompanied them. However the generals were reluctant to utilize their radical inventions and the Reades had to confine their genius to helping design better mundane airships. Kate and Elizabeth volunteered to be nurses as well as flying medical supply drops in their own planes.
When the United States declared war against the Central Powers both Robert Gordon and Frank Reade III joined the United States Navy as part of their Aviation force. However despite some initial interest in the Reade's advanced aerial and naval technology, the Navy reversed itself and decided not to waste valuable resources on Reade's outlandish contraptions. Both Robert Gordon and Frank Reade III were assigned to flight duty. Frank Reade III was assigned to be navigator on one of the dirigibles purchased from France. Robert Gordon trained for surveillance and combat air duty. Frank Reade III was badly injured when his dirigible was shot down and perished from his wounds.
After the Armistice was signed Kate asked Robert and Elizabeth to go on a working vacation to Australia. She wanted them to retrieve a mechanical man that her father had built and left behind in Australia.
By the time that they had reached Australia, Elizabeth was very pregnant and the Spanish Flu was starting to hit Australia and a quarantine was imposed. Elizabeth gave birth to John Kevin Robert and soon after contracted the Spanish Flu. After a protracted illness she passed away.
In late 1920 Robert Gordon married Margaret Dundee Gordon, a recent widow. They along with the infant John Gordon disappeared while flying across Australia. According to their son, they perished in 1931 during an attack from pterodactyls.
Robert Gordon's father Lochinvar (Lucky) Gordon was born on April 3, 1872 in Dodge City, Kansas to Percy Gordon and Hannah MacGregor. Lochinvar Godon accompanied his parents on their travels through the western United States until they created the Highland ranch in 1883. Although the nickname Lucky was first used as diminutive of Lochinvar, it proved prophetic as he escaped death several times in his early childhood. An arrow from a Kiowa raiding party that penetrated his crib was stopped inches from his head, at the age of six when he leapt to avoid a rockslide it buried his foot but only caused one fracture in a toe, in his twenties a fusillade fired from six shooter at point blank range missed him entirely and when thrown from a horse and over a cliff he missed the cliff face and landed in a deep pool of water. He was also uncommonly good at cards. This would prove both entertaining and profitable when his parents sent him to St. Louis for education. Lucky attended Washington University, taking business and law courses. His parents had also sent their ward, Heather Moore, to St. Louis for an education. She attended the Lindenwood College for Women.
Shortly after his arrival in the St. Louis Lucky one evening he was riding in Carondolet Park and heard shouts and laughter coming from one of the lakes. Riding up he saw a few gents having sport with a small boy by holding him by the legs and dunking him in the lake, as they stood on a dock. He called for them to stop and they responded by dropping the boy into the lake and drunkenly whooping and laughing. Lucky dove into the lake and rescued the boy and discovered that it was not a small boy but a middle aged hunchbacked dwarf.
Lucky realized that he knew of this man, his parents had met him briefly. He was Mr. John Brainerd, an inventor. He became fast friends with the older man and his wife.
In 1891 Lucky attended a soiree given by the prominent Smith family and saw a beautiful woman who immediately entranced him. As he approached to write on her dance card he was shocked to discover the girl was Heather Moore. One year had transformed this gawky tag along into a stunning young woman.
To Lucky's surprise, Heather was not very pleased to see him. Her former puppy like admiration for Lucky had faded away and she much preferred the company of the Comte Philippe Natta, a Neapolitan nobleman on tour in the United States. Lucky thought there was something rotten about this Comte Philippe and so, with Brainerd's help, followed him about. He discovered that Comte Philippe was squiring several young ladies around town. Heather refused to believe this, chalking it up to Lucky's being jealous.
Heather's infatuation, combined with her own adventuresome spirit nearly resulted in tragic consequences. When invited to inspect a riverboat that the Comte was thinking of purchasing she found herself locked away in a cabin upon the riverboat.
After Heather had disappeared, Lucky confronted the Comte Philippe who denied knowing what happened to her. After having observed the Comte lead another young woman onto the riverboat, Lucky tried to board it. He was thrown overboard by several stevedores. As he swam to shore the riverboat took off. Lucky went to Brainerd who equipped him with a couple of guns and piloted his steam powered submarine close enough for Lucky to board it.
Through guile and determination Lucky was able to incapacitate the riverboat crew. He freed the imprisoned girls and fought a sword duel with Comte Phillipe. Lucky tripped over a footstool during the course of the duel and avoided a cut that would have torn open his throat. Off balanced by Lucky's fall, the Comte stumbled directly onto Lucky's sword.
After this Lucky realized he was not the adventuresome type, and Heather realized that she should not have let her head be turned by the exotic Frenchman, who as it turned out was a New Orleans procurer. After they finished their schooling they returned to Highland Ranch, where they wed and had issue, Robert Jordan and David Gordon.
Lochivar Gordon's father Percival Gordon was born in 1848 at The Shaws, Cramden, Scotland. He was the second son of Alan Gordon and Delhi Darcy. Being the second son, and having two sisters that would need dowries, Percival knew his inheritance would be small so asked that it be spent on an education so he could better make his way in the world. He was up at Rugby's and then to Edinburgh to read at law. After finishing his course work, he traveled to the New World to seek his fortune. He believed that the United States would be all the stronger after its civil war and so a place where a man could do good for himself.
Arriving in New York his several letters of introduction easily found him a situation at the law firm of Greyson and Van Sloane. His Scottish heritage became important for a rather thorny legal problem. He was sent to Saratoga Springs, New York to meet with the MacGregor family. When they learned that Percival, through his grandmother, was also a MacGregor they were both welcoming and a bit wary. There was a land dispute going on in MacGregor, Iowa between James MacGregor and his brother's family. The MacGregor family hoped that a new perspective would bring about a fair and equitable solution for both parties.
When Percy Gordon arrived in MacGregor, Iowa he was almost immediately set upon by several ruffians as he strolled out of the local land claims office. Although he held them off for a while they eventually overpowered him and left him bloody and beaten in an alley. He was found and helped to his room by a young man and woman. She washed his cuts and clucked over him. They introduced themselves as Gardner and Hannah MacGregor.
They were part of the lawsuit and the men who had beaten him were hirelings of their Uncle James. The case proved to be a morass of suit, counter-suit, claim and counter claim with neither side willing to compromise. His stipend was barely enough to keep him alive and his fee was based on contingency. There were established lawyers in McGregor who handled most of the legal work, although he managed to scraped together a few cases on his own they barely covered his expenses. He took a second job as town constable, with the hope that he would run into his attackers once again.
Despite the seeming impropriety of it, he became friends with Gardner and Hannah MacGregor, telling them, and himself, that he would not this affect his impartiality. While on a picnic Hannah asked him to walk with her while Gardner slept. After they were alone for a while he was rather shocked when she asked if he was going to kiss her or not. Flustered he said he was not in habit of kissing married women. She gave him a funny look and burst out laughing. Gardner was her brother not her husband. Hannah and Gardner were the children of William MacGregor, a direct descendent of Robert MacGregor, the renowned Rob Roy. Hannah was a strong minded independent woman who had been trained as a schoolteacher. She worked a private tutor.
After two years with no movement on the MacGregor case, Percy felt frustrated and restless. He told Hannah he was thinking about moving on. She asked where they were going since, to be sure, he was not about to leave her behind. They decide to go to San Francisco where with their particular skills they would be certain to find employment. Their trip east was shortened however when Hannah became ill. They stopped at Dodge City and discovered that her illness was pregnancy. Not wanting to risk the child in travel, they stayed in Dodge City. At this time Dodge was a small railroad stop but Percy found some legal work at Fort Dodge and also worked as at a stockyard. Lochinvar Gordon was born in Dodge City KS, in October 1872. As they waited for Lochinvar to become old enough to travel, Hannah had another baby, Stuart Gordon b 1874 and another, Elizabeth Gordon 1875. As the children grew so did the town. Dodge City became a boom town whose commodity was cattle. Although Hannah did not have many children to tutor, Percy found steady legal work and also supplemented their income as a part time constable.
In 1878 a drunken dentist botched a tooth pulling on Hannah. The dentist was contrite when Hannah confronted him and even promised to give up the practice. However he became resentful of the Gordons and began to make disparaging remarks about Percy and Hannah, seeking to goad them into a confrontation. Percy's friend Ed Masterson told him to avoid John Holliday at all cost, he was rattlesnake mean but also rattlesnake quick with a gun.
After Ed Masterson was killed Percy and Hannah decided it was time to make their way west. They however decided to travel to Seattle before going to San Francisco.
They stopped in at Buckskin, Montana and stayed at the O'Connell boarding house for a few weeks while Elizabeth overcame the flu.<![if !supportFootnotes]>[4]<![endif]> As they traveled through Wyoming the train was robbed and their savings were stolen. Since silver had been discovered in Arizona, they decided to travel there and seek their fortune.
Hannah shrewdly decided that they should spend what little they had of their savings on extra supplies before going into Arizona. They arrived at the tent city known as Tombstone in 1879. Percy was successful in prospecting some silver but did not make a fortune. They raised more money renting their equipment than he did from mining. Hannah took in laundry and tutored. Percy found steady work as a notary and solicitor.
While Tombstone had been a rough encampment, the violence ratcheted up when the Earps rode in. Since Holliday was not with them, the Gordons decided to stay a while longer. Later on Holliday did ride into Tombstone but seemed or pretended not to recognize either Hannah or Percy.
However it was not long before various factions in town began vying for control of the burgeoning vice trade. After their friend Lester Moore<![if !supportFootnotes]>[5]<![endif]> was gunned down at his post at the Wells, Fargo station, they decided that it might be time to leave. They took in Lester's daughter Heather. One of Percy's clients, Bill Cannon<![if !supportFootnotes]>[6]<![endif]> offered to sell Percy a parcel of land he owned in Colorado. He had homesteaded the property before returning to New Mexico. As part of the bargain he would send some of his experienced ranch hands to help them get started. After some consideration, they agreed.
Enroute to their new ranch they passed through Denver. One of their hands was cheated out of his money in a three card monte game. When he protested he was shot. Unwilling to continue until justice had been done, Percy found the police very little help. He began his own investigation which soon coincided with that of railroad detective Tom Smith. They found the shooter, Hank Grissom<![if !supportFootnotes]>[7]<![endif]>, whom Percy also recognized as being one of the men who had held up the stage coach in Wyoming. Grissom was a member of the Soapy Smith gang but refused to acknowledge it.
The Gordons reached their ranch, which was located near Gunnison, Colorado in 1883. The named it the Highland Ranch<![if !supportFootnotes]>[8]<![endif]>. Among the various hands that worked on their ranch at one time or another were Cheyenne Bodie and his cousin Bronco Layne. On one of the occasions where Cheyenne was charged with murder, Percy defended him in court.
Percy Gordon passed away in 1945, preceded by his wife of many years, Hannah who died in 1933.
The parents of Percy Gordon were Alan Gordon born 1820 at The Shaws, Cramden, Scotland and Delhi Darcy born 1825 at Pemberley Hall, Lambton. Alan Gordon was the first born son of George Gordon of Lochinvar and Catriona Balfour, the heiress of The Shaws.
As was his father's wish, Alan attended Harrow and then joined the East India Company Maritime service as a Midshipman. He served aboard the Travers and saw action during the First Anglo-Afghan War (1839-42) and First Opium War. (1839-42). In 1844, having served six years aboard a vessel and reaching the rank of Lieutenant, he transferred to the Company's Civil Service as a collector's assistant. This was a new posting and so while his superior was arranging for travel into the interior Alan was introduced to Indian society.
He made the acquaintance of Miss Delhi Darcy, a young woman of exceedingly good family. At the time Miss Darcy was arranging to return to England. She had come to England to marry Captain Allan MacLean of the HM 13th Light Dragoons but soon discovered that he had betrayed her affections with several native women. After getting to know Alan Gordon better, Miss Darcy admitted that she had not been looking forward to the marriage, it was an arrangement for mutual benefit rather than one of passion. Miss Darcy's family had prestige but lacked wealth; Captain Maclean's family had wealth but lacked prestige. It had been a relief to find an excuse not to go through with the marriage.
Her father had suffered drastic financial reverses that had nearly depleted the family's wealth. This had occurred after her older sister had married. While her family was not destitute, they could no longer provide her with a proper dowry. Her grandfather, Fizwilliam Darcy, had suffered a stroke and suffered some incapacity. He had reluctantly turned the family finances over to her father in 1825.  At first Fitzwiliam Bennet Darcy's investing in the Indian trade had been a rousing success. Delhi was named after the Star of Delhi the ship that made his first venture into investment a success.  He had then doubled the family fortune by investing wisely but calamity ensued when Palmer and Company fell.<![if !supportFootnotes]>[9]<![endif]>
After his initial successes he began investing in many different "country" ships relying on his partners in these ventures to arrange for the routes and cargo. They invested heavily in opium, and unbeknownst to Mr. Darcy, in black ivory. The opium ships and cargos were seized at the start of the first Opium War and the slave ships were stopped by the Royal Navy with their cargoes seized or destroyed. In addition to the loss of the cargoes, the holding company holding title to the ship's registry was fined penalties. To offset the losses Fitzwilliam Bennett Darcy needed to sell most of the family's income providing estates. He chose to keep the family's estate at Pemberley House instead of a smaller one that also provided revenue in a misguided attempt to assuage his parent's disapproval. This proved to be a futile attempt. Although Fitzwilliam Darcy and Elizabeth Bennett Darcy continued to live at Pemberley Hall their relationship with their son became distant and chilly.
Delhi Darcy angrily rebuffed Alan Gordon's offer to pay for her passage to England. Thereafter she refused to see him when he came to call upon her. She took a position as a lady's companion for Lady Mary Collins of Longbourn, a kinswoman of Miss Darcy's. Lady Mary was the wife of Julius Collins, a magistrate-collector for the Company stationed at Berar. Mrs. Collins and Miss Darcy were enroute to Berar when their traveling party was attacked and the two women were abducted. Although the attack on the traveling party looked like a thuggee attack, Alan Gordon was not convinced that this was true, since the women were not killed outright as well. Taking a leave of absence Alan Gordon rounded up a few friends and went in search of them.
An experienced tracker from the Americas helped them pick up the trail. Shortly thereafter they came across an encampment of several men. At night the tracker and Gordon snuck into the encampment and peeked inside the tents. After confirming that the women were indeed being held, they signaled for the rest of their party to join them while they went about silently taking out as many guards as they could.
Only a few of the bandits had any fight in them and were killed. The rest tried to flee when confronted with armed men. Under questioning they learned that the women had been abducted to be sold as prostitutes or wives. Although Captain MacLean had seemingly taken the breaking of their engagement very well, this had only been for public consumption. Privately he yearned for revenge so he had arranged for Delhi Darcy's abduction. He also hoped to realize enough money from this venture to square some of his gambling debts. Although frightened, the women had not been molested.
Because the evidence against Captain Maclean was slim, no charges could be brought. Alan Gordon challenged him to a duel which Delhi Darcy begged him to call off. His honor and outrage at Miss Darcy's abduction would not allow him to do so. Maclean was a well known swordsman and so had chosen that weapon believing that he would have an advantage over Gordon who was not that proficient with the saber. However Gordon chose to use his claymore which he was familiar. He broke MacLean's sword and in the second stroke hamstrung the now cowardly Maclean. Gordon rendered a coup de grace that left Maclean alive but ended any chance his lineage would continue.
Captain Maclean's father had influential friends and so Alan Gordon was given a choice to either resigning his position and leaving India or to be brought up on charges for assault on Captain Maclean. Maclean also planned to sue Miss Darcy for breach of promise and cite Gordon as cause. Rather than subject Miss Darcy to that humiliation, Gordon resigned. Alan Gordon visited Miss Darcy who was once again preparing to travel to Berar and told her was leaving India. He told her that he would pay for her passage as well but that he would prefer that she travel as his wife, but if that would not be an acceptable arrangement, he would do so as her protector.
Miss Darcy said she found the first choice to be an acceptable one. Alan Gordon's father was disappointed that Alan's career in the East India Company had been so brief; however he did not fault him for his actions. Alan took a position at the Balfour Shipping company, training for the day he would inherit it. Alan Gordon inherited Balfour Shipping in 1860. He also became Laird of Shaws, Cramden, and 11th Viscount and Laird of Lochinvar.
Alan Gordon and Delhi Darcy had issue, David b. 1844. Elizabeth b.1846, Percy b. 1848 and Anne b. 1850.  
Delhi Darcy. b. 1825 was the second daughter of Fitzwilliam Bennet Darcy and Agatha Jansenius. Fitzwilliam Bennett Darcy was the son of Fitzwilliam Darcy and Elizabeth Bennett, who were both present at the Wold Newton meteoric event.<![if !supportFootnotes]>[10]<![endif]> 
INSET DAVID GORDON AND HIS DESCENDENTS: After a distinguished military career that saw action in the Morant Bay rebellion, the Expedition to Abyssinia and Second Afghan War, David Gordon assumed control of Balfour and Associates on 1880. Upon the demise of his father he became the Laird of Shaws, Cramden and the 12th Viscount and Laird of Lochinvar. In 1870, while stationed in Kabul, Afghanistan David Gordon married Sarah Harrison daughter of Reginald Harrison, esq, of Woodbury, Tasmania, Captain of the 99th Regiment. By her had issue, Harrison b. 1871, Samuel b. 1875, Matilda b. 1879.  David Gordon d. 1920 of lung cancer. He was suc. by Harrison Gordon.
Harrison Gordon b. 1871 at Woodbury, Tasmania. Educated at Harrows, University of Edinburgh. Military service (14th Foot) Ashanti Expedition of 1895-90. Second Boer War, attached to King's Congo Rifles 1916, deployed to Egypt for duty in Palestine 1917, stationed in Cairo 1919-1926. ret. Lt. Colonel, 5th Battalion, West Yorkshire Regiment (Prince of Wales's Own) 1927  Upon retirement he took up residence at Shaws, Cramden, Scotland 1927.
Harrison m. firstly, in 1896 Louise Ballantyne of the Rhodesian Ballantynes and had issue, Constance  b. 1901.  Louise perished of malaria in 1902. Constance was privately educated in England and at finishing school in France She m. in 1921 John Rand, a former soldier and American adventurer from Connecticut. They had issue David Rand b. 1923. Constance, John and David Rand disappeared while flying from Rhodesia to Cairo.<![if !supportFootnotes]>[11]<![endif]>
Harrison m. secondly , Claire D'Ubervilles, hereditary Countess Plender in 1918 in Cairo and had issue, Reginald b. 1919, Cynthia b. 1922. When Harrison nearly succumbed to malaria in 1926, he retired from the military and the family took up residence at the Shaws, Cramden and also at the D'Uberville estates near Birmingham. Reginald trained as a pilot and took part in the action at Dunkirk 1940. His plane was destroyed in action and he perished as a result. In June, 1941 Harrison, Claire and Cynthia were among the fatalities of a Luftwaffe bombing at Birmingham.
As he no longer had any heirs the titles Harrison Gordon had accrued through inheritance or marriage were deemed extinct. They were however restored and conferred upon his distant kinsman, John Kevin Gordon, in 1955.
INSET ENDS
The parents of Alan Gordon were George Gordon of Earleston, Kemure and Lochinvar and Catriona Balfour of the Shaws, Cramden.
George Gordon was the third son of Edward Gordon, the Viscount of Earleston, Kemure and Lochinvar and Margaret Gordon of Gight. Edward Gordon could trace his lineage back from Alexander Gordon (1587-1653), the second son of William de Gordoune, the sixth Lord of Lochinvar. According to Philip Jose Farmer Jongor was also a descendent of the youth immortalized by Sir Walter Scott in Scott's epic poem, Marmion.<![if !supportFootnotes]>[12]<![endif]> Some accounts speculate the Lochinvar character to be based on William de Gordoune, others propose it was his son James. Margaret Gordon was the daughter of George Gordon of Gight and Catherine Innes. George Gordon was a descendent of King James I. He was the maternal grandfather of the famous poet Lord Byron, making Margaret Lord Byron's aunt.
George Gordon received an appointment as a midshipman in the Royal Navy in 1807 and was assigned to the HMS Belle Poule and shared in her many victories and captures of French and American ships. George Gordon was among the officers that remained aboard the ship when it was re-commissioned as a troop ship in 1814. It was in this capacity that he was a participant at the Battle of New Orleans. After the HMS Belle Poule was de-commissioned Lieutenant Gordon was assigned to the recommissioned HMS Alceste. He was aboard the ship when it ran aground in the Java Sea and sought shelter on Java. They were harried and hunted by Dayaks. He was among the survivors rescued some months later by the East India Company.  While on recuperative leave in Scotland, George Gordon met Catriona Balfour at a dance.
Catriona Balfour's parents were Alan Balfour, Laird of the Shaws and Mary Byron.
Mary Byron was a distant kinswoman of George Gordon, Lord Byron. Her parents were the Honorable Reverend Richard Byron, the Rector at Haughton le Skerne, County Durham, England and Mary Farmer. Richard Byron was also a younger son of William Byron, 4th Baron Byron of Rochdale and his second wife.
Alan Balfour was the son of David Balfour and Catriona Drummond MacGregor. Catriona was the granddaughter of the notorious Scottish outlaw Robert Roy MacGregor, through his son James Mor. David Balfour was the hereditary Laird of the Shaws.<![if !supportFootnotes]>[13]<![endif]>
George Gordon and Catriona Balfour's match was agreeable to both their parents and they m in 1819. They had issue, Alan b. 1820, Katherine b. 1821, James 1924. He resigned his commission from the Royal Navy and joined Balfour and Associates, as a ship's captain. When Catriona's father David Balfour retired in 1830 George assumed control of the company. When David Balfour died in 1837, George Gordon assumed ownership of the company and became the Laird of the Shaws. Because the sons of his two elder brothers died without issue, George Gordon also inherited his father's title.
THE MATERNAL LINEAGE
The mother of John Kevin Gordon also known as Lord Plender or Jongor, was Elizabeth Rivers. Elizabeth Rivers was born in Fort Grant, Oklahoma on May 12, 1892. Her parents were Nyad Drummond and Patrick Rivers. Elizabeth was their second child . She was something of an unexpected child, arriving when her mother was forty-four years old. When Elizabeth was ten years old her parents left the Oklahoma territories and went to live at Readestown, Pennsylvania.
Bright and energetic Elizabeth became fast friends with Kate Reade, who looked upon her as a protégé and a proxy little sister. Elizabeth became involved in many of the Reade siblings' adventures. On one occasion, while Frank and Kate were exploring the Serpent Mound in Ohio they ran afoul of some serpent cultists. Kate was kidnapped and was going to be sacrificed to the giant timber rattlesnake that the cultists worshipped. Elizabeth was rescued by a young circus balloonist named Robert Gordon. Fascinated by the Reade's flying machines, he asked if he could work for them. They agreed and he soon discovered, to his embarrassment, that Elizabeth had formed a romantic attachment to him. However as she matured his embarrassment faded.
Robert Gordon and Elizabeth Rivers married in 1915. When the War between the Central Powers and the Allies broke out, Frank III and Robert went to England became pilots and Kate and Elizabeth volunteered to be nurses as well as flying medical supply drops in their own planes.
When the United States declared war against the Central Powers both Robert Gordon and Frank Reade III joined the United States Navy as part of their Aviation force. Frank Reade III was killed during the conflict.
After the Armistice was signed Kate asked Robert and Elizabeth to go on a working vacation to Australia. She wanted them to retrieve a mechanical man that her father had built and left behind in Australia.
By the time that they had reached Australia, Elizabeth was very pregnant making travel difficult.  At this time the Spanish Flu was beginning to spread through Australia and a quarantine was imposed. Elizabeth gave birth to John Kevin Robert and soon after contracted the Spanish Flu. After a protracted illness she passed away.
Elizabeth Rivers' parents were Patrick Rivers and Nyad Drummond.
Nyad Drummond was the daughter of John Drummond of and Oread Butler of Charleston, South Carolina.
Nyad Drummond was born on July 17th, 1851 on the isle of Corfu. She was the fifth child and the third daughter. Her father was the Head of Chancery for the United States of the Ionian Islands, under Henry George Ward, the Lord High Commissioner of the Ionian Islands. Nyad traveled with her family to Sierra Leone, Vancouver, British Columbia and finally to Washington D. C. While her father was stationed in Washington, her mother took Nyad with her as she visited relatives in Charleston, North Carolina and Atlanta, Georgia. In 1866 her father  was assigned to the British Embassy in Washington, her parents enrolled her in Madame Talvande's French School for Young Ladies in Charleston.
Nyad Drummond was the baby of the family and so her parents tended to indulge her, however when she wrote a paper that compared the similarities between chattel slavery practiced by the Americans, it's replacement tenant farming and how the natives of the British colonies were treated, her parents realized they may have over indulged her.
In 1868 they began seeking a strong older man for Nyad to wed and curb her sprightly personality. While they did not tell her of their intentions she began to have her suspicions when her parents began to frequently call upon Erasmus Butler, a distant kinsman and Dominic Bouchard of the wealthy family of Arms manufacturers.
 After several visits with both Nyad was given an ultimatum to choose one of them as her husband. When she refused her parents threatened her with being disowned. Although saddened this tactic, she refused to give in. Her parents unable to explain her behavior had her examined by a doctor who diagnosed that she was suffering from severe hysteria. He recommended that she be placed in a private asylum until she was once a healthy and obedient child.
Her parents made arrangements for her to be placed at the Sunlight Gardner Sanitarium. Nyad planned to avoid being committed by running away the day before her scheduled departure, however her parents deliberately misled her about the dates. Nyad was accosted and manhandled by two large burly men who pushed her into an enclosed carriage and locked it behind her. Her parents were no where to be seen, unable to bear the sight of their daughter being sent away. As the two men pushed her into the carriage, Nyad scratched on their arms. Although it appeared that she had done so with her nails she had actually done so with a broken hairpin she hid in her fist. The pin was impregnated with a solution derived from oleander seeds, morning glory sap and lupin seeds<![if !supportFootnotes]>[14]<![endif]> which she had collected during her travels. She hoped it would be strong enough to be effective but not strong enough to kill. She also used the hairpin to open the locked door.
Within the hour the orderlies were incapacitated by nausea, stomach cramps and diarrhea. As they stumbled off the road, Nyad unhitched the horses and drove all but one away. She climbed aboard the horse and rode back towards Charleston to pick up her emergency packet. When Nyad realized she might have to run from an unwanted marriage she began making preparations, hiding packages of clothing, money and jewelry.
Dressed in understated traveling clothes, Nyad went into Charleston and booked passage in a steamer heading for New Orleans, believing that her parents would think she would head for England rather than the interior of the United States. Nyad posed as a schoolteacher traveling to New Orleans to take a position at a prestigious finishing school.
While enroute to New Orleans one of the passengers, George DeVol taught Nyad several card games. She was saved from being skinned out of her entire "poke" by a friendly fellow traveler named Brett, although she suspected his last name was an alias. Brett taught her how to spot sharpies and how to play cards like a professional.
When she arrived in New Orleans she discovered that posing as a prospective teacher and trying to become one were two different things. None of the schools would hire her as a teacher without letters of recommendation. She took a job teacher's assistant although her duties mostly consisted of cleaning. She only worked three times a week however so her wages were not enough to maintain her lodgings. She did not want to sell her jewelry unless absolutely necessary. One of the other cleaning girls told her that with her figure and ability to speak French and Spanish she could get a position at Madam Francine's Club. Francine's was an exclusive gambling establishment where the serving girls and dealers were paid well and treated with respect.
Nyad balked at this and once again tried to persuade the schoolmistress to increase her duties. The schoolmistress asked her many pointed questions about her background, many of which were rather specific to Nyad, when Nyad refused to answer some of her questions the schoolmistress excused herself.  Nyad found the door locked. There was a window but it opened onto a balcony. Nyad climbed onto the roof from the balcony and then down to the street by climbing down some convenient vines. As Nyad returned to her boarding house, she learned that some men from the Pinkerton Detective agency were making inquiries about a young runaway who matched Nyad's description.
She asked her friend to arrange an interview with Miss Francine. Nyad was pragmatic enough to realize that working at a school was not an option, at least not at that time. Although Miss Francine cultivated an air of French sophistication, Nyad heard the slightest touch of Irish brogue to her accent. Nyad allowed a trace of Scottish burr to color her accent. Although Nyad did not have much experience as hostess her ability to speak French, Spanish, Italian and Greek won Miss Francine over.
As it turned out Nyad only served food and drink for a couple of weeks before she started dealing cards. When one of the dealing girls left to get married Nyad asked to try out. Nyad not only dealt quickly and accurately, she knew when and what type of conversation would keep a game civil.
One of Francine's close friends and customers was Yancy de la Rougierre<![if !supportFootnotes]>[15]<![endif]> who was often accompanied by his Pawnee companion, Pahoo-Ka-Ta-Wah. From Pahoo, Nyad learned the Indian sign language.
One evening in 1871 as she walked home from Miss Francine's Club two men tried to abduct her on the street. She shot one with a derringer she carried. The other fell at her feet with a knife in his back, thrown by Pahoo. Yancy and Pahoo examined the bodies and discovered papers that allowed these two men from the Sunlight Gardiner Sanitarium to take Nyad Drummond into custody.
After Yancy Derringer and Pahoo disposed of the bodies, Yancy, Miss Francine and Nyad had a discussion about her future. Yancy offered her a position as a dealer on his Riverboat, The Sultana. She could live on the boat and would have the protection of the crew. While it was not a long term solution to her problem it would keep her safe for a while. Nyad stayed on the Sultana for eight months before tiring of being on the riverboat.
While dealing cards was a remunerative profession for her, she did not plan to make it her life's work. Traveling along the river and seeing the variety of people had renewed the sense of purpose that she had put aside during her flight from enforced marriage. With Yancy's contacts she gained entry to Linden Wood School at St. Louis and studied to be a teacher.
Upon her graduation in 1873, she began teaching at one of the four schools in St. Louis established for black children. She grew increasing frustrated at the low amount of funding that the schools received and began petitioning to redress this inequality. After three years of this nonsense the School Board had enough and discharged Nyad.
Her efforts to alleviate the disparity of funding for black and white children had given her a reputation as a troublesome radical so no schools in St. Louis would hire her. She booked passage on a riverboat heading up the Missouri and augmented her nest egg by a few hundred dollars playing poker. While on the boat she defused a tense situation between two Indians through a combination of sign language and speaking Choctaw. A young man was impressed by her actions and asked her to dine with him. He was Patrick Rivers, a deputy U. S. Marshal based in the Indian Territory. He had been trailing a fugitive who died in a gunfight in Abilene before he could be apprehended.
As they compared life stories Patrick Rivers told her that he believed that her background and skills could be very useful in the Indian territories. Each tribe had a school system and there was also a need for teachers for freedmen.  Intrigued, Nyad decided to accompany Deputy Marshal Rivers to the Indian territory.
Nyad found a position at Park Hill Seminary for Girls in Tahlequah, Cherokee Nation. Marshal Rivers courted her over the course of the next two years and they were married in May of 1879. Over the course of the next four years she learned to speak Cherokee, Choctaw, Seminole, Powatomi. In 1885, she gave birth to their first child Michael. Their second child, Elizabeth arrived in 1895.
When Judge Isaac Parker and his wife wanted to set up a public school system in the Indian territory, Nyad Parker assisted in its creation.
The Rivers were opposed to the creation of the Oklahoma territory and against the Oklahoma land grab. They still felt the territory to be their home and continued to fight the encroachment of settlers and the marginalization of the Indians and Negroes. When the Court's Act ended the jurisdiction of the Parker's Western Arkansas court, Patrick Rivers was given the choice of being reassigned to another district or leave the Marshals service. He chose to become a town constable in Tahlequah. However as statehood approached the white immigrants began passing laws that eroded the rights and freedoms that Indians and freedman had gained after the Civil War. When Oklahoma became a state and immediately began passing segregation laws, Patrick and Nyad decided to leave the state. Contacting the Reades of Pennsylvania, he accepted a long standing offer to join their security team. Their son Michael did not accompany them but instead stayed behind to take the position of clerk on the Bliss Ranch.  
In Readesville, Pennsylvania Nyad joined the Readesville Academy of Higher Learning specializing in languages and linguistics. She wrote grammars and dictionaries on Cherokee, Choctaw, Creek, Seminole and Comanche. She learned Nahuatl from an Aztec woman that the Reades rescued from Mexico and wrote a book on what knowledge she could glean from her source. She also published a paper noting the similarities between Comanche, Apache and Nahuatl. She perished in 1919 from the Spanish influenza, ironically the day before her daughter also died from that same disease several continents away.
Patrick Rivers was the son of Rev. St. John Rivers esq. of Marsh End and Hemakshi Jangli, Rani of Vanpur.
Patrick was born near Kanpur, India 1851. His father returned to England in 1858 and took up residence at Marsh End. Patrick Rivers was educated at Rugby and began classes at Cambridge in 1867. He declined however to follow his father's express desires to follow in his footsteps and become a prelate and so became disowned. Patrick Rivers traveled to America to further his education and seek his fortune. Enroute to America he fell in Captain Frederick Woodville<![if !supportFootnotes]>[16]<![endif]> and Lieutenant Early Lee, English soldiers who were traveling to take up posts in Canada. The two soldiers had most recently been stationed in India and were surprised to see an East Indian traveling to America. Rivers explained he was the son of a baronet and a Rani. They convinced him to join them on a buffalo hunt before they went their separate ways.
They chose to hunt the buffalo on horseback rather than on a train because the train excursions were more costly. They also agreed that it just did not seem all that sporting. While hunting they became surrounded by a vast buffalo herd. Lt. Lee panicked and began shooting at the buffalo surrounding him. The buffalo stampeded and the three hunters were caught up in the mad rush. Early Lee jumped from his horse and was trampled to death. Captain Woodville and Patrick Rivers kept on their horses and tried to keep with the flow of the stampede. Captain Woodville's horse tripped and the Captain jumped clear. As Patrick struggled to pull Captain Woodville onto his horse the horse panicked and threw Patrick. Both he and Woodville were near the edge of the stampede and although trampled were able to fight clear of it. However they were both injured and without horses or supplies.
Rivers had suffered a broken leg and although Woodville only appeared bruised he began coughing up blood. Woodville splinted River's leg and went to look for Early Lee. Rivers never saw him again. Rivers started towards the direction of Dodge hoping he would encounter a Buffalo Hunter's camp on the way. After a couple of days without food or adequate shelter he passed out.
He awoke in a skin tent surrounded by Indians of both sexes. At least one of them spoke English. He told Rivers that his grandfather had found him laying on the prairie but had never seen a man of his tribe, so he brought him back to camp. Rivers owed his life to not having any weapons or supplies and to his East Indian mother. He told them he was of the Vanpur tribe which was far to the west. His name was Rivers. The young Indian whose name was Hósa, translated for him. The old man grunted and said it was a good name for the River would be important in his life. The old man, Three Rabbits, said he was his guest.
Patrick Rivers stayed with the Arapaho for six months as his injuries healed. Doing so awakened a long buried curiosity about the history, culture and religions of indigenous people. This was an interest which his father had curtailed as being unseemly. The task was to bring God to the heathen not to encourage heathenism among the Godly.
Within six months Patrick Rivers had learned enough Arapaho and Cheyenne to understand many of the oral histories that Three Rabbits told him. One day Three Rabbits told him that it was time that he left. The four symbols that he needed to watch out for were a star, a river house, a flying man and wooden barrel. Three Rabbits gave him a pony, a bow and quiver of arrows and ten buffalo skins.
Patrick Rivers found a buffalo hunter's camp and fell in with the young group of hunters among whom were Bill Tilghman and his brother Dick. Patrick Rivers only remained a hunter for a little over a year, although he did work with folks such as the Masterson and Earp brothers and odd fellow named Dave Mathers. He did not mind hunting bison for the Army since most of the meat was rendered but found strictly hide hunting distasteful and wasteful. His short time among the Arapaho had given him a respect for the bison. 
He obtained a position as a laborer on John Wesley Powell's 1871 survey expedition. With this experience he took a position as a laborer and interpreter for the 1873 Yellowstone expedition which was escorted by Lt. Colonel George Custer and the 7th Cavalry. When Custer left he took several of the laborers, Patrick included. Patrick was part of Custer's 1874 scouting mission to the Black Hills, a rather unwilling part. Lt. Colonel Custer took over Patrick's contract and refused to pay until Patrick had served out its term. Because Patrick was an exotic and educated Britisher, the Custers thought he would fit well into their circle. However Patrick thought the Custer boys to be rather immature bullies. Patrick used his time in the area to become acquainted with some of the Cheyenne, Crow and Sioux who lived in the area. When gold was discovered he had a reason to stay on after the troops left. The Custers were not unhappy to be rid of Patrick, for he was too friendly with the Indians for their liking. The gold strike turned out to be rather small, although the pretense that it was large was used to bring more settlers to the area.  
When a prospector was killed the others were all ready to waylay the nearest Indian and string him up. Patrick was not convinced that the prospector had been killed by an Indian. After examining the site of the murder, he discovered that someone had tried to fix blame on the Indians. He proved to the others that it had been someone who had tried to claim jump the prospector. The guilty party was lynched over Patrick's protests. He was informed that there weren't any laws in the territories.
Patrick Rivers decided to take what gold had found and travel to the east to once again take up his long delayed education.
While traveling east he passed camped with a group of buffalo hunters he had known. They were attacked by a group of Sioux and Dick Tilghman was killed.  Afterwards Patrick traveled through the Indian Territory and came upon a gunfight. One man was pinned down by several shooters. He chose to help the single man by using his sharps to wing or wound three of his attackers. The rest took off on their horses. The man he found was a Deputy U. S. Marshal who had been tracking two fugitives. He had been shot once in the leg. Shrapnel had wounded his left eye. Deputy Cogburn refused Rivers' help, he would get help on his own. He told Rivers that he was now deputized as part of posse to fetch those skunks back. He gave Rivers the warrants and a tin star. He told Rivers not to lose that badge because he'd paid for it himself.
Rivers brought back both of the men alive. The Tom Fagen, the U. S. Marshal who was in charge of the Indian territory told him that Cogburn had no authority to have deputized him so he was entitled to collect the bounty. As Fagen handed his bounty over to him he asked about Rivers' background. He was impressed how he had handled himself and asked him to become a deputy marshal.
Fagan told him that although the pay was not very good they were doing important work, ensuring and enforcing the peace in the territory so that relations between the Americans and Indians could prosper. He convinced the idealistic young man to join up.
Patrick Rivers' temporary job as a deputy marshal lasted for the next twenty years. At first he was enthusiastic about helping to shape the Indian Territory into a place where the Native Americans and European and African settlers could create an area of mutual cooperation and governance. In 1876 he trailed after Luther Sledge, a horse thieve and murderer who fled the Indian Territory. He caught up to him in Dodge city but it turned out to be a wasted trip for the fugitive had gotten himself killed. On his return trip he rode on a riverboat where a pretty gambler caught his eye. At St. Petersburg a fight broke out on the dock between two sets of Indians. It appeared to be a cultural clash with both screaming at each other in their own languages. Patrick recognized one as Choctaw but he only had a smattering of it. The pretty girl waded up between the two shouting Indian factions and began using a combination of Indian sign and spoken Choctaw to communicate between the two Indians groups. The Plains Indians were Comanche, which Patrick found odd. They said they were trading. They wanted to buy some of the clothes of the Choctaw, believing that even if they were similar to those of the Pale Eyes, since the Choctaw wore them they were suitable for People.
He admired how the girl had handled the situation which could have easily turned into a bloodbath. He arranged an introduction and discovered that Nyad Drummond was also n British expatriate. Upon learning her background he suggested that she try to obtain a position in the Indian Territory. While it is true that he believed that she would be an asset to the education system, he also knew it would make it easier for him to see her again. After she took his advice and sought a position at the Park Hill Seminary. Since Patrick was assigned to the Cherokee Nation, he found time to court her. In two years time he wed her. They were both passionately committed to the idea that the Indian Territory could demonstrate how common ground could be found for improved relationships between Native and European Americans.
Patrick had a long adventure filled career as a U. S. Marshal and he supplemented his income with a small ranch that he and another Marshal, Dave Bliss, owned and operated. During the course of his career Patrick Rivers captured some two hundred plus law breakers. He took the majority of his captures alive although many were not captured unharmed. He was only forced to kill three of these and alive.
 Some of the highlights of his distinguished career as a U. S. Marshal are as follows.
1875 Took into custody a triple murderer whose actions had the set two trail drive camps against one another. The two camps were the Culpepper Cattle Company and one led by renowned trail boss Matt Savage.
1875 He and fellow U. S. Deputy Clint Adams had to hold off a lynch mob while waiting for circuit judge Mark Colt.
1877 Solved a series of bizarre cattle mutilations. Assisted by stock detective Sam Benbow,
1877 He worked with Sheriff Go A Head Rider of the Cherokee nation on several occasions, most notably when they arrested the serial arsonist known as Prairie Fire.
1877 Failed to bring in fugitive family killer, Tom Martin alive due to interference of vigilante known as El Diablo.
1878 Captured the notorious, and seemingly bulletproof, outlaw Jebediah Kent after he successfully wounded him in a shootout by literally finding a chink in his armor.
1879 Solved a series of murders of young women and Chinese laborers that most lawmen refused to believe were connected.
1879 He first encountered Franke Reade Jr. during the incident of the Wind Clipper Pirates.
1880 Worked with US Marshal Sam Buckhart to track down accused murderer Shoz-Dijiji who had taken refuge on the Kiowa-Apache territory. Their search was hampered by Ke-Woh-No-Tay, who aided Shoz-Dijiji
1881 A long running feud between female bounty hunters Calamity Jane, Cinnamon Manser and Charity Rose, stemming from the women continually stealing each other's bounties broke out into a combination brawl and gunfight. He subdued and arrested all three.
1882 With the assistance of White Duck a Choctaw policeman, Patrick Rivers was able to round up some notorious mail train robbers, the notorious Beagle brothers
1883 Patrick and Heck Thomas investigated several rustlings on ranches near the Circle K ranch. Although evidence pointed to the Lance Schmidner, the owner of the ranch, Heck believed that Lance was being framed. They soon discovered that the rustling was being carried out by members of a criminal gang led by a man named El Head. El Head was suspected of spearheading criminal activity in several western states and territories. Although they arrested several gang members the head of the gang remained elusive.
1884 Arrested the infamous Trinity brothers and brought them in, despite their penchant for escaping. Through no fault of his, they escaped before they could be brought to trial.
1885 Once again became involved with Frank Reade jr. in the Battle of the Steam Men wherein the Loveless brothers tried to kill one another.
1886 Tracked and arrested the western adventurer Old Shatterhand for the murder of Albert Santer, a respected businessman.
1886 When Deputy Marshals Marshals Custis Long and Jed Cooper trailed after bounty hunter Josh Randall and a prisoner he refused to hand over Patrick Rivers had to take both Randall and the prisoner into his custody first to prevent them from killing each other.
1887 An encounter with notorious bounty hunter Jonah Hecks in a dispute over a wanted fugitive left Patrick with a broken shoulder that would ache in the cold.
1889 Had a third adventure with Frank Reade jr. in Flying Locomotive. (Lana Benson from WWW Night of the Falcon) ,Torres from Night of the Steel Assassin,
Patrick River's outspoken opposition to the creation of the Oklahoma territory and the Oklahoma land grab made him quite a few enemies so when the Oklahoma territory took full jurisdiction over its court system, Patrick was given the choice of relocating to another territory or leaving the Marshals service. He choice to become a town constable in Tahlequah, where his anti-territory and then anti-state views were met with derision. After Oklahoma became a state and began enacting segregation laws, Patrick had had enough. He took up the Reade's offer to become their Chief of Security and moved to Readestown, Pennsylvania with his wife and daughter.
Patrick and his son, Michael Rivers had grown apart over the territory and state issues. Michael Rivers had become an accountant and wanted to make himself a man of substance in Oklahoma. He felt that his father had thrown a wrench in those plans. Michael took a position as the clerk at the Bliss Ranch, taking over his father's share. He courted and became engaged to Mary Bliss, content that when old Dave died he would inherit it. However Dave made certain that the ranch house stayed in his daughter's name.
Dave Bliss was backshot in 1905, the killer was identified as the son of a man he had brought to justice. Michael and Mary had one son named Conrad who was born in 1914. Oil was discovered on the Bliss Ranch and Michael was able to parlay that into a nice fortune. Michael had joined the frenzy of speculation and lost almost everything in stock market crash of 1929. He retained the ranch but when drought struck in 1930 the pastures and cattle began dying off. Michael committed suicide in 19 31 by shooting himself in the head. He had chosen to do the deed while his wife was sleep. The bullet passed through his head and smashed a lamp setting his den on fire. The books and papers went up Mary was overcome by smoke attempting to rescue her already dead husband and died before the fire brigade put out the blaze. The ranch house, the one piece of property that Michael had not put up as collateral was utterly destroyed.
Conrad Rivers became a hand on the Joad farm and developed a strong bond with Rose of Sharon Joad. Like his father Conrad had a talent for dreaming big dreams and convincing people that what he dreamed could come true. He considered himself a college student however his college was a correspondence school. Once Rose became pregnant he did the honorable thing and married her. However like many other people during the Depression the Joad's lost their farm. Tom Joad, an ex-con convinced everyone to travel to California where jobs and land were plentiful.
The trip to California was nightmarish, and when they camped at a CCC facility Conrad saw just how desperate times were. He convinced himself that it would be better for everyone if he returned to Oklahoma and took some correspondence courses about fixing tractors. He bid goodbye to Rose of Sharon and left during the night. When Conrad returned to Oklahoma he could not find work to sustain or maintain his enrollment in correspondence school. Arrested for vagrancy, the judge offered Conrad a choice, join the army or the CCC. Conrad chose the latter.  He worked on the Boiling Springs Recreational Park project and was transferred to building an airport in Illinois. After his two year enlistment was over Conrad Rivers was sponsored for a position with the Federal Art Program where he worked on a variety of posters. While working on a poster for a concert series he met Ann Ware, a singer working with the Federal Music Project. They were married in 1938 and had a child in 1939 named Nicholas<![if !supportFootnotes]>[17]<![endif]>. Conrad had not filed for divorce from Rose of Sharon<![if !supportFootnotes]>[18]<![endif]> so he was a bigamist for four years until Rose was granted a divorce in absentia. Conrad Rivers was drafted in 1941 but was fortunate enough to become an illustrator for Stars and Stripes. He did combat illustrations and also informative cartoons. Conrad remained in the Army and on the staff of the Stars and Stripes until 1970. He had come through World War II, Korea, the Dominican Republic invasion and most of the Viet Nam conflict without a scratch but was killed in a robbery in Saigon.
The parents of Patrick Rivers were St. John Rivers of Marsh End and Hemakshi Jangli, the heredity Rani of Vanur.
St. John Rivers Bt. DD. B 1809 educated at Cambridge and Christ College. Vicar at Morton End 1835-37. In 1837 traveled to India as a missionary. Prior to his departure from England St. John Rivers had attempted to convince his cousin Jane Eyre to accompany him as his wife. She refused on the grounds that they were not in love, she believed that he was in love with one of his parishioners, Rosamund Oliver who reciprocated his interest. Jane believed that Reverend Rivers was afraid to admit his feelings for Rosamund because she appealed to him on a primal level rather than an intellectual one. Rosamund was beautiful so St. John was convinced she would prove faithless and he would lose her to some soldier or merchant stationed in India.
St. John Rivers arrived in India in 1838 but his was a solitary, self-appointed mission, he was not part of a missionary expedition. He intended to subsist on a small stipend taken from the annual earnings of his estates and the contributions his preaching would garner. Within two weeks of arriving in India St. John Rivers was certain he had entered Hell itself. The heat and humidity were overbearing, the food was inedible and the people benighted. Most of the native he preached to would listen politely but remained unswayed. Many of his countrymen would listen for a few moments before moving along. Sometimes a coin or two would be tossed his way but more often than not they moved on with a mumbled amen. Many of the soldiers would not even listen to him at all but would tell him to immediately bugger off.
St. John Rivers set off for the interior of India but refused to travel in a caravan believing that he would have better success in making converts by walking all the way. Near Cawnpore he collapsed on the road and lay sick until discovered by some people from a nearby village. They took him to the home of the Rani of Vanur, Hemakshi Jangli. Through her efforts and those of her staff St. John Rivers was slowly nursed back to health. From the evidence related in his journal, Reverend Rivers seems to have suffered from a nearly fatal combination of malaria, heat exhaustion and parasitical infection. Fevered and delusional for several weeks he became convinced that he had been shown visions of Heaven and Hell, the Past and the Future, guided by a beautiful golden eyed angel. When his fever finally broke, St. John Rivers emerged a different man. His cold austerity and puritanical disavowal of the world melted away in the fever's heat. While his devotion to God remained the same, he also became a man who embraced the world as God's creation instead of a stepping stone to eternal life.
When he was formally introduced to the Rani Hemakshi he appreciated not only her Christian devotion and intellect but also her great beauty. She possessed fine Eurasian features and a voluptuous form. Yet her most striking attributes were hypnotic, gold flecked eyes. As he regained his strength, he learned that Rani Hemakshi had sat by his bedside most days and read to him as he lay wracked with fever. This he realized explained many of his fever dreams.
As so often happens nurse and patient formed an intimate emotional bond. Additionally both were delighted with the other's intellect and devotion. His newfound passion for life was fanned by her own. As he regained strength, she offered to aid his missionary work with a generous endowment. He could if he wished start a mission near her home or she would enable him to travel. As he had with Jane Eyre, he asked Hemakshi to accompany him, only in this instance he made certain that she realized he wanted her not only as a companion but as his wife. While Jane's refusal had stung him, her refusal devastated him. He begged her for an explanation and she finally relented, telling him about her family's past and expecting him to reject her for it.
As Hemakshi told him about her family the old St. John began to whisper in his brain about how unworthy she was, about the sin she carried from her ancestors. Yet John Chapter 8 kept flashing through his mind and eventually quelled the whispers.
St. John Rivers convinced the Rani Hemakshi that her family did not matter to her. They were married in early 1839. By her he had issue, Robert b. 1839, Jane b.1841, Hannah 1845 and Patrick b. 1851. They established a missionary school near her holdings. Each year they would take missionary trips to different parts of India. St. John became an advocate for the common people of India and deplored the Company's policies towards the native population. Although the small holdings of Rani Hemakshi supported the missionary work, they also supplemented this income by investments and owned in part two indigo factories, a textile mill, tea plantation and tea house.
St. John Rivers and Rani Hemakshi led happy productive lives until 1857 when the Great Mutiny happened. Had they been at home they probably would have weathered the Mutiny without incident. As it happened St. John, Hemakshi and the two girls were traveling upon a missionary trip when the Mutiny began. Patrick was at home and Robert was in England. As they attempted to return to the Rani's estate they were attacked by a band of rebels. Although this particular band of rebels expressed their hatred for St. John Rivers for being British, they had a particular hatred for the woman who willingly became a British concubine and bore him half caste children.
They announced their intention to slay her entire family before her eyes. Hemakshi told the rebels she would willingly give her self over to them if they would allow her family to go unmolested. The leader of the rebels agreed to this bargain but told her that her family would have to watch her humiliation before they were allowed to leave. St. John and the two girls were forced to see Hemakshi's brutal beating and multiple violations. After Hemakshi died, the rebel leader broke his word and his men violated the two girls while St. John was tortured with red hot bayonets.
A rag tag band of soldiers and volunteers led by a Captain Alexander Sheridan drove the rebels away saved the Reverend Rivers and his daughters from death however part of St. John Rivers died inside. The torturers had removed his left eye, three of his fingers and his manhood. They had cut and burned his flesh leaving his torso, arms and legs dotted with scars and cicatrices. He felt that God punished him for falling into temptation and so he became determined never again to allow his baser nature rule over him.
His daughters had suffered beatings and rape but they did not experience any lasting physical damage. They reminded St. John of his wife and his own fall so when they were able to travel he sent them to a finishing school in Calcutta. When he was able to travel, St. John retrieved his son Patrick and traveled to England to once again take up residence at Marsh End. He once again became a vicar at Morton. St. John continued to have income from his Indian investments, portions of this went for his children's education, for the upkeep of Moor House, however the major portion went to support his missionary work. However he no longer supported overseas missionary work believing that it was a doomed effort to reach the benighted and cursed children of Satan. He focused his efforts on the poor and poorly educated folk of Britain.
Whereas Robert only bore a hint of his Indian heritage in his perpetually bronzed skin, Patrick was the male equivalent of his sisters and also inherited his mother's eerie golden flecked eyes. He sent Patrick to live with his sister Diana and her family until he reached the age of admission to public school. Robert Rivers his father much changed and protested the harsh treatment his siblings had received. Relations between St. John and his children cooled considerably.
When St. John and Patrick Rivers returned from India, Robert Rivers had just been accepted to study medicine at Oxford, but St. John balked at this and insisted that Robert instead attend a seminary. After much negotiation, Robert was allowed to study medicine by agreeing to succor the poor after he graduated.  After his children's education was completed he ceased supporting them. He also refused to supply his daughters with dowries.
His increasingly puritanical and harsh sermons led to his removal as Vicar of Morton in 1870. St. John Rivers died in 1879 and at his wishes was buried in a potter's field. Prior to his death he divested himself of his business holdings and with the earnings he created a foundation to fund his various charities.
RIVERS FAMILY
Robert Rivers b. 1839 d. 1889. Educated at Rugby, Studied at medicine at Oxford and St. Bartholomews. M. Carlotta Grandison 1859 and by her had issue, Patricia b. 1859, John b 1860 and Frances b 1861. Physician of record at several work houses and orphanages. Private practice as a consulting physician.. In 1876 he contracted tuberculosis and died as a result of the disease in 1879. Robert's inability to work and medical bills left the family in near dire straits. The girls were told by their mother that unless they wished to live a life of want they needed to marry well. Patricia was courted by George Lawrence a young man of moderate means and by Sir Hector Brandon a very wealthy gentleman. Under parental pressure Patricia finally accepted Sir Hector's offer of marriage and became the mistress of Brandon Abbas. Sir Hector's family owned the famed sapphire The Blue Water which like the famed Moonstone had belong to Tippu Sultan and had been liberated by Sir Hector's ancestor during the Siege of Seringpatem. Sir Hector soon proved to be a thorough rotter and soon tired of the company of his wife. He returned home only when his allowance ran out and spent the time in a foul and drunken mood.
During one of his trips home he returned with a three year old girl Claudia whom Sir Hector claimed was a niece.
Unlike her sister Frances Rivers did not marry into wealth. She married Michael Geste, a printer, bookseller and social activist. Geste was the scion of an aristocratic French family whose family had fled the Revolution, aided, it is said, by the legendary Scarlet Pimpernel. Their fortune however did make it intact. They had three children, Michael and Digby born 1880 and John born in 1881.The bookstore and the house above it suffered a fire in 1884, As Michael fought the fire, Frances got the three boys to safety and returned to help Michael when the structure became fully engulfed.
Patricia raised the three orphaned boys as her own.
Since John Rivers was the only male child he fared slightly better than his sisters. What money his parents could spare for education were endowed upon him. He attended Brookfield and then Christ College. He married Marion Trafford, the daughter of a wealthy factory owner.<![if !supportFootnotes]>[19]<![endif]> They had one daughter Isobel. During the holidays John and his wife spent time visiting her society friends so Isobel spent her holidays with Lady Patricia Brandon.
In 1899 the Geste boys disappeared from Brandon Abbas and eventually only John would return.<![if !supportFootnotes]>[20]<![endif]> He m Isobel Rivers, his cousin in 1901.
Sir Hector Brandon died alone in Tibet and shortly thereafter Lady Brandon married, George Lawrence, Esq., C.M.G., of The Nigerian Civil Service
The parents of the Reverend St. John Rivers were Charles Rivers, b. 1770 and Diana Eyre b, 1780. Charles Rivers was the second son of, Richard Rivers a prominent industrialist of Cheshire. Charles was privately educated and in his sixteenth year took a position as a junior clerk at his father's salt mining operation and soon extended his capabilities to some of his other business concerns. In his eighteenth year he traveled to Cornwall as his father's personal secretary. He met and began a friendship with Isiah Eyre, a prominent businessman of Falmouth.
Through contacts that he made in Falmouth, Charles Rivers entered into partnership with several young gentlemen. He became the public face of a venture named Rivers and Associates, the young gentlemen were not adverse to making money but could not have their reputations sullied by having it known they were engaging in trade. Profits were steady and Charles Rivers strengthened his ties to Isaiah Eyre by marrying his daughter, Diana in 1796. By her he had issue, Diana Rivers 1808, St. John 1809 and Mary 1811. The Financial Crisis of 1797 occurred and problems soon began to plague Rivers and Associates as the aristocratic investors reneged on their commitments and failed to provide for the company's debts. As the public face of Rivers and Associates Charles Rivers became responsible for the bulk of the payments.
Although Charles' father would almost certainly alleviated Charle's debt, Charles refused to seek his aid. Robert Rivers had suffered a stroke just prior to the financial crisis and his affairs were temporarily out of sorts. Charles elder brother was currently in His Majesty's Navy serving on the staff of Admiral Jervis and so could not be reached to take control of the family's finances.
Isaiah Eyre offered to discharge the debt if Charles Rivers would release his daughter from marriage so she could find a more suitable husband. Diana Rivers however did not wish to be released and so Charles refused. This caused a great rift between the Rivers and Eyre families. Charles Rivers was taken to a sponging house and kept there for a year until the bulk of his debt could be discharged.
Upon his release Charles was given the deed to Moor House by his elder brother so he would never be without a home. However Charles' disgrace prevented his brother from allowing him a position with the family business. Over the next fifteen years Charles Rivers found positions as a clerk, solicitor and tutor. Although never wealthy he did provide his children with educations but his financial means prevented him from providing his daughters with adequate dowries.
Diana Rivers died of blood poisoning in 1817. Charles died in 1830 leaving Moor House.
The parents of Charles Rivers were Robert Rivers b. 1742 from the prominent family of Cheshire, and Alys Campbell b. 1741 dau. of Douglas Campbell, Knt of Ardenvohr<![if !supportFootnotes]>[21]<![endif]>.
Robert Rivers was privately educated and was from an early age trained to take over his father's substantial holdings in mining, agriculture and shipping. His father had become acquainted with Douglas Campbell during his military service and remained in contact over the years. They arranged the union of the two families. Robert Rivers and Alys Campbell m. in 1760 and had issue, Robert b. 1762, Alice 1764, Maude 1767, Charles 1770 and Frances 1771.
In addition to being an intelligent and forthright man of business with an impeccable reputation for honesty and fair practice, Robert Rivers was also renowned as a sporting gentleman who was a superlative horseman and noted marksman with either firearms or bow. He was also known for his good and judicious eye for breeding horse flesh and game cocks.
Robert Rivers suffered a debilitating stroke in 1797 which left him incapacitated. He finally succumbed to this malady in 1800.
The parents of Robert Rivers were Francis Rivers b. 1700 and

Florestine

,

Vizcondesa

d'
Almaviva
b 1706.

 

Francis Rivers was the natural son of Richard Savage, 4th Earl Rivers by Maggie

Macheathe

, a mistress he had picked up during his service during the

Williamite

War. Prior to becoming a well regarded military officer, Richard Savage was also a notorious for his dissipation and daredevilry and was among the famous rakes of his day. Despite a distinguished military career and marriage he continued to maintain mistresses throughout his life and had several illegitimate children, although he died without a legitimate heir. Richard acknowledged Francis as his son and gave his mother support. He bought a commission for Francis as a cornet in the 17th Foot.
Francis joined the Regiment as it returned to England to fight the Pretender. He took part in the battle of Sheriffmuir. After the Pretender had been chased from England he remained with the regiment as it traveled back and forth between England and Ireland on garrison duty during the years of 1717 and 1725. It was during this period that Francis flouted tradition and also began to involve himself in trade, building upon the business that his mother had built in Cheshire. Maggie Macheathe had invested the support payments into several agricultural properties which gave her a yearly income however as a woman her ability to acquire property was limited. Acting as her agent, Francis purchased interest in mining. He later bought two mines and with his military contact also entered into the shipping business.
In 1725 the 17th Foot was stationed on Minorca. The 17th foot was sent to aid the garrison at Gibralter during the siege of 1727. After the siege the 17th remained on garrison duty on Minorca, Frances spent his time traveling back and forth between Minorca and England. In 1839 Francis Rivers met the Vizcondeza Florestine d'Almaviva, the adopted daughter of Conde Almaviva<![if !supportFootnotes]>[22]<![endif]>. Florestine was on sabbatical, mourning the loss of her fiancée who had died of a fever shortly before their wedding. She spent her time among the megalithic stones Minorca. Francis was also fascinated by the ancient ruins. After a year's courtship Francis married Florestine and by her had issue, Robert, b. 1742. He sold his commission and took up residence in Chesire.
THE VANPUR LINEAGE
In 1839 St. John Rivers married Hemakshi Jangli, the hereditary Rani of Vanpur. In doing so he was marrying his distant kinswoman, although neither he nor his wife ever knew of their familial ties.
Hemakshi Jangli b.1810 was the natural daughter of William Savage and Hema, the hereditary Rani of Vanpur. She was educated at Miss Warrender's Academy for Young Women in Calcutta.  She ascended to the title of Rani when her mother perished in a riding accident in 1825. Upon finishing her education in 1827, Hemakshi returned to her estate. Her experience at school at made her realized that although her great beauty and aristocratic title made her socially acceptable to some degree, the circumstances of her birth, her mother's checkered past and her Eurasian heritage eroded much of this acceptability. Her prospects of finding a suitable marriage among either the English colonists or Indian aristocracy were fairly slim. Rather than subject herself to hidden, if barely, pity and contempt among the colonial circles she stayed on her estate and lived a life of contemplation but became known for her acts of Christian charity.
When some of her subjects carried St. John Rivers to her estate in 1839, she had little expectation than to nurse him back to health. However she became strongly attracted to him and fell in love with him. He claimed that his cold reserve had been burned away by his fever and the warmth of her devotion. Having been resigned to spending her days alone, she now wished to spend the rest of her days with him but felt obliged to tell him everything about her and her family's past so that he could make an informed decision.
They wed in 1839 and had four children, Hemakshi felt that her marriage and her children could not only restore her family's good name but it could provide an example of harmonious Anglo-Indian relations. Her children were educated in both English and Indian culture by private tutors. Hemakshi aided her husband in his mission school and also aided in him in making sound financial investments.
When able, Hemakshi accompanied her husband on his annual missionary trips, they were able to gauge more accurately than most the rising tide of resentment against the British. Their missives to the Company administrators went unheeded. Although they knew there was serious resentment against the English, even St. John and Hemakshi were caught unaware when the rebellion occurred.
They attempted return to their estate but were captured by some rebels. They express particular loathing for Hemakshi and her daughters, since she was a British concubine and they were half castes. Hemakshi offered herself to the rebels if they would leave her husband and children alone. She was perhaps fortunate to perish as they violated her and so never knew her self sacrifice was in vain.
The parents of Hemakshi Jangli were Hema Chauvelin and William Savage.
William Savage, b. 1785 Fort St. George, India. educated Harrow, Royal Military Academy Woolwich.
William Savage was descended from Jason Savage one of the first English colonists in India. Jason Savage left the harsh conditions that existed among London's poor to work in India. Jason rose from a laborer to a seat on the Board of Revenue. <![if !supportFootnotes]>[23]<![endif]> His claim of humble origins however was spurious. Jason Savage was the fourth son of John Savage, 2nd Earl Rivers. Jason was disowned for his father for being expelled from school, intemperate drunkenness and blasphemy.
Served with distinction with the Royal Artillery during the 1st Kandyan War. In 1808 a dueling incident led to William resigning his commission and leaving Ceylon for India. He took a position with the East India Company as a Lt. in the   1st Bengal Light Cavalry. He distinguished himself in the Anglo- Maratha War of 1817. Shortly thereafter he was granted a position as District Collector in Madhya in 1822. Colonel William Savage later became renowned for his campaign against the Thugees in 1825 which predated that of Colonel Sleeman.<![if !supportFootnotes]>[24]<![endif]>
While stationed in Sagthali in 1809 William made the acquaintance of Hema, a Eurasian tawaif of some notoriety. "The tawaifs were female entertainers. They were in many ways similar to the geishas of Japan. They excelled in the arts of poetry, music, dancing, singing, and were often considered to be the authority on etiquette. By the 18th century they had become a central element in polite, refined north Indian culture. However, their sphere of entertainment also included entertainment of the more erotic variety; it was the latter activity that contributed to their downfall."<![if !supportFootnotes]>[25]<![endif]>
British colonials tended to conflate the tawaifs with nautch girl or nach-wali which were common dancing girls. This was an occupation often equated with prostitution. William Savage became romantically involved with Hema. She trusted him with her secret, that she was a Rani. Most men would have humored Hema, thinking this was the equivalent of a prostitute claiming she was really a princess.
Hema was the daughter of a French officer and an Indian princess. Her parents had been killed during one of the many skirmishes between France and England over the Indian territories. She had been raised by one of mother's handmaidens. Her foster mother had told her of the location of a lost city where a great treasure could be found. While not avaricious William Savage thought if the story were true it would allow them to live in comfort.
William took leave and put together a small party of ex-soldiers and Indians. Enroute to the lost city of Sangpur they lost several of their party to disease, a flood, bandits, and snake bite. The lost city was so overgrown as to be nearly unrecognizable. William and Hema took shelter in what they thought was a small cavern but turned out to the entrance to the underground chambers of a ruined temple. While there were a few jewels, golden vessels and implements they could not find a vast amount of them. There were however many hundreds of scrolls and clay tablets written in a form of Sanskrit that Hema could not read. She wondered if this were the treasure.
Infuriated at the suggestion, Lucian Carnahan,one of the two remaining Englishman wanted to torch all of the scrolls. Savage killed him rather than let him do so. After a thorough search of the site they divided the small amount of treasure. One of the two remaining Indians decided to stay behind and do a more extensive search.
A few nights later, Hector Slingsby the last Englishman slit the throat of the remaining Indian, stabbed Savage and abducted Hema.  Savage stitched up his wound, tracked down Slingbsy and killed him. Hema insisted that Slingsby had not touched her, William however had his doubts. While he was burying Slingsby, Savage found an iron box buried amongst a pile of bones. The box was filled with a great number of gems. Hema and he debated whether they should re-bury the box or if fate had led them to the box.
At the end they decided to take the gems. As they returned to Sagthali, William proposed marriage to Hema. She refused. Such a marriage would damage his military career or any prospective career in government service. Although the money might allow him to move further up the social ladder, she would never be accepted. Eventually he would come to resent her and their child. Also, despite her assurance. William would never be certain that the child she carried was his.
Hema used a portion of her treasure to build an estate near Cawnpore. Savage gave her half of his share for the care of their child, which she bore in 1810. In 1825 she learned of the marriage of William Savage to Mary Wilson and went riding. Whether she was simply careless or distracted by the news she ran into a low hanging branch and died of a severe head injury.
The parents of Hema Chauvelin, Rani of Vanpur were Francois Louis Armand Chauvelin, hereditary Comte D'Joirie, and Vishakha, the Rani of Vanpur<![if !supportFootnotes]>[26]<![endif]>.
Francois Chauvelin b. 1760 was the heir to the Comte D'Joirie. According to tradition the ruling family of D'Joirie went back to the ancient Veneti and Bituriges, Celtic tribes of Gaul in the regions in and around Brittany. They claimed descent from Lugh mac Ethlenn, although their enemies believed they were more directly descended from Lugh's grandfather Balor because of their unique yellow or golden eyes. The Chauvelin's were the direct descendents of the Comtesse Girelle who was a most renowned warrior in the 14th century.<![if !supportFootnotes]>[27]<![endif]>  Lady Girelle gave birth to Caelestis, c 1375. Her paramour was purportedly a mercenary captain called Fèvre d' Nordouest. According to legend he died gloriously in battle and was carried to Heaven by an angel. Many doubt this story however considering the rumors surrounding the family D'Joirie's trafficking with otherworldly spirits and imps. Caelestis later acquired the sobriquet of Chauvelin.<![if !supportFootnotes]>[28]<![endif]>
In 1777 Francois attained a commission in the 107th Infantry Regiment. He took part of the defense of Pondicherry during the siege of 1778. After that city fell to the British he was assigned to the regiment charged with the defense of Mahe, India. After the British took Mahe, he took part in several skirmishes with the British as part of units supporting Ali Hyder, the ally of France who was also at war with the British. When peace was signed in 1783 between France and England he was assigned to staff of Colonel Gudin, an advisor to the Tipu Sultan.
The small kingdom of Vanpur was one of those to fall to Tipu Sultan during his wave of conquests in the 1780's. Hoping to secure his dynasty the Raja of Vanpur sent his only child, a daughter to Tipu Sultan to become one of his wives. Tipu Sultan  did not wish to politically favor the Raja of Vanpur so he declined the offer of marriage. However he did not wish to make the Raja an enemy either so he offered the compromise of wedding the Rani to one of his powerful allies.
Since Tipu Sultan knew Francois did not have a wife as of yet, he chose him. As an aristocrat Francois was not a stranger to the concept of a political marriage. He agreed to the marriage in 1789. He was recalled to Pondichery in 1790 and it there that Vishakha gave birth to a daughter, Hema. She was so named because she had her father's gold flecked eyes. In 1792, Francois lost his title as a consequence of the abolition of the nobility. In 1793 after the king's execution there was discord in Pondichery, which the British used to their advantage and laid siege to the city. Francois Chauvelin had received a summons from the ruling committee of the National Convention and had been prevented from leaving by the British blockade. Having learned of the King's fate he was determined to return to France. He and Vishakha became one of the few casualties of the siege when a cannon ball took ricocheted off a wall and crashed into their bedroom. His fate would have been no different had he returned to France since his name had been put on the list of wanted aristocrats. A packet of mail for Francois arrived after his death. A letter from a family friend, Baron D'Aulnais  revealed that Francois father Raoul was among those arrested and executed having the misfortune caught up in Nantes' revolutionary fervor.  Son and Father had died within days of one another.
SELECT BIBLIOGRAPHY
Burke, John Burke's Peerage, Baronetage & Knightage, Burke's Peerage Limited
Devereaux, Lucas The Scottish Cowboys, Knopf 1960
Fahey, Ashley Alexander MacGregor and the Founding of McGregor, Iowa < http://www.mflmarmac.k12.ia.us/School%20Website/high_school/student_gallery/writing/alexander_macgregor.htm>
Farmer Philip Jose, Jongor in the Wold Newton Family, Farmerphile 12The Honorable East India Co < http://www.honeastindiaco.com/index.html> Lundy, Darryl,  The Peerage: A genealogical survey of the peerage of Britain as well as the royal families of Europe < http://thepeerage.com/index.htm>
Martins, Holly A History of the Territory and State of Arizona, Random House 1944
Sutlzman, Lee Potawatomi History <http://www.tolatsga.org/pota.html>
Webster, Anthony The Richest East India Merchant: The Life and Business of John Palmer of Calcutta, 1767-1836, Boydell Press 2007