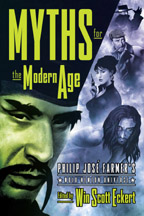 MYTHS FOR THE MODERN AGE:


PHILIP JOSÉ FARMER'S WOLD NEWTON UNIVERSE
is now available from MonkeyBrain Books:

In his classic "biographies" of fictional characters (Tarzan Alive and Doc Savage: His Apocalyptic Life), Hugo- and Nebula-award winning author Philip José Farmer introduced the Wold Newton family, a collection of heroes and villains whose family-tree includes Sherlock Holmes, Fu Manchu, Philip Marlowe, and James Bond. In books, stories, and essays he expanded the concept even further, adding more branches to the Wold Newton family-tree. MYTHS FOR THE MODERN AGE: PHILIP JOSÉ FARMER'S WOLD NEWTON UNIVERSE, edited by Win Scott Eckert, collects for the first time those rarely-seen essays. Expanding the family even farther are contributions from Farmer's successors—scholars, writers, and pop-culture historians—who bring even more fictional characters into the fold.
Table of Contents & More Ordering Info