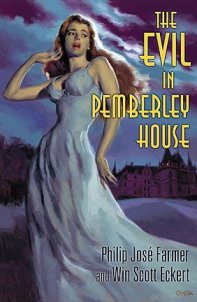 The Evil in Pemberley House, an addition to Philip José Farmer's Wold Newton cycle, plays with the Gothic horror tradition. Patricia Wildman, the daughter of the world-renowned adventurer and crimefighter of the 1930s and '40s, Dr. James Clarke "Doc" Wildman, is all alone in the world when she inherits the family estate in Derbyshire, England—old, dark, and supposedly haunted.
But Farmer, characteristically, turns convention on its ear. Is the ghost real, or a clever sham? In Patricia Wildman, Farmer creates an introspective character who struggles to reconcile the supernatural with her rational scientific upbringing, while also attempting to work through unresolved feelings about her late parents. He sets the action at Pemberley from Jane Austen's Pride and Prejudice and ingrains the various mysteries in the Canon of the Sherlock Holmes stories.
The Evil in Pemberley House, by Philip José Farmer and Win Scott Eckert, is a darkly erotic novel with broad appeal to readers of pulp and popular literature, particularly followers of Doc Savage, Sherlockians, and fans of Farmer's own celebrated Wold Newton Family.