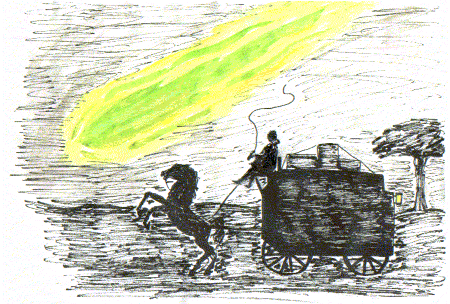 THE WOLD NEWTON UNIVERSE
CROSSOVER CHRONOLOGY
PART II
(1801 - 1865)
by Win Scott Eckert
---
Search The Wold Newton Universe
---
CROSSOVER STORIES APPEAR IN BLUE TEXT
CROSSOVER REFERENCES TO SUPERHEROES AND/OR INFORMATION RELATED TO SUPERHERO UNIVERSES APPEAR IN GREEN TEXT (CLICK HERE FOR A DETAILED EXPLANATION OF HOW SUPERHERO CROSSOVERS ARE DOCUMENTED ON THIS CHRONOLOGY)
AN OVERVIEW OF KEY EVENTS IN THE WOLD NEWTON UNIVERSE APPEARS IN BLACK TEXT - not intended as an all-inclusive history - for complete information refer to:
Philip José Farmer's Tarzan Alive, Doc Savage: His Apocalyptic Life, and The Other Log of Phileas Fogg

William S. Baring-Gould's Sherlock Holmes of Baker Street and Nero Wolfe of West 35th Street

Professor H.W. Starr's articles A Submersible Subterfuge, or, Proof Impositive and A Case of Identity, or, The Adventure of the Seven Claytons (both articles included as addenda to Farmer's The Other Log of Phileas Fogg and Tarzan Alive, respectively)

Rick Lai's article The Secret History of Captain Nemo, Pulp Vault number 11, Tattered Pages Press

Peter Cannon's The Chronology Out of Time: Dates in the Fiction of H.P. Lovecraft, Necronomicon Press, 1997

Daniel Harms' The Encyclopedia Cthulhiana, 2nd ed., Chaosium Books, 1998 (including the Timeline of the Cthulhu Mythos by Shannon Appel)

Chris Jarocha-Ernst's A Cthulhu Mythos Bibliography & Concordance, Armitage House, 1999

Alan Moore and Kevin O'Neill's The League of Extraordinary Gentlemen, volumes I and II and the annotations of volume I and volume II by Jess Nevins

other works cited on these pages
---
1802
THE WANTON PRINCESS
Roger Brook is posing as a Frenchman when Napoleon Bonaparte says to him: "You are almost as conceited as that gallant who commands the Hussars of Conflans. What's his name? Yes, Brigadier Gerrard."

Although author Dennis Wheatley spelt Gerard with an extra "r" in The Wanton Princess, he uses the more common spelling in Evil in a Mask (1807).
1806 - Don Diego de la Vega becomes El Zorro (Johnston McCully's The Curse of Capistrano (The Mark of Zorro).)
1807
EVIL IN A MASK
In 1807, British spy Roger Brook (still pretending to be a Frenchman) is captured by the Russians. One of his fellow captors is a French captain in the Hussars of Conflans. Brook remarks: "Indeed, you must be a brave fellow, since you hold that rank under such a dashing commander as Brigadier Gerard."

Rick Lai notes that "Dennis Wheatley made several errors in his references to Gerard. He was a Lieutenant with the Tenth Hussars during 1802 and 1807. He first joins the Hussars of Conflans as a Captain in 1809 ('How the Brigadier captured Saragossa'). He becomes their commanding colonel in 1810, and is promoted to a Brigadier in 1813. The cited dates are based on Jack Tracy's chronology of the Gerard stories in the 1982 Jove paperbacks, Brigadier Gerard and The Return of Gerard." Sir Arthur Conan Doyle's Brigadier Gerard was identified as a Wold Newton Family member by Philip José Farmer, specifically as an ancestor of James Bond; see The James Bond Chronology and Genealogy for a family tree.
July 18, 1808 - Birth of Prince Dakkar of India (The Mysterious Island), the son of Rajah Dakkar of Bundelcund, a Capellean (The Other Log of Phileas Fogg). Later in his life, Prince Dakkar will call himself "Captain Nemo."
1808 - The events of Doctor Syn: Death of Syn, who, in his lifetime, has operated as the pirate Captain Clegg and as the night riding smuggler known as the Scarecrow of Rommey Marsh.
1809
THE THREE MUSKETEERS
While in France, Zorro has an adventure with the descendants of Athos, Porthos, Aramis, and D'Artagnan.

This is a 1991 two-part episode of New World television series Zorro, confirming Dumas' The Three Musketeers and related novels in the Newtonverse.

1809 - Birth of C. Auguste Dupin.
1809
DRACULA VS. ZORRO
Don Diego de la Vega, otherwise known as Zorro, fights against Count Dracula in Spain and France.
This is a comics mini-series/graphic novel published by Topps Comics, by Don McGregor and Thomas Yeates. The 1820 date given in the comic is inaccurate; see Matthew Baugh's Zorro Chronology at Chronology Central. For information on Zorro's inclusion the Wold Newton Universe, see the Holmes-Dracula encounter in 1890. The Count Dracula featured here is the "real" Count (see Chuck Loridans' full account of the history of Count Dracula in the Newtonverse, Children of the Night).
1812
MEN AREN'T THE ONLY ONES WITH DUAL IDENTITIES
Anita Santiago goes into action as the incredible Lady Rawhide, Zorro's sometime-enemy and sometime-ally.

Issue number 3 of Topps' Zorro series by Don McGregor and Mike Mayhew introduced the heroine Lady Rawhide to the Newtonverse. She went on to individual adventures in two comics mini-series.
1814
OTHER PEOPLE'S BLOOD
Lady Rawhide lies bleeding and near death after various battles. One of Dracula's spawn, Carmelita Rodriguez (see Dracula vs. Zorro), is on the same ship as Lady Rawhide, and after denying her vampiric urges for so long, Carmelita can no longer resist. But in Carmelita's feeding on Lady Rawhide, she is also saving her life.
This is in the second Lady Rawhide solo mini-series published by Topps Comics, written by Don McGregor and illustrated by Esteban Maroto, which abruptly ended mid-series with issue 5. Does this mean that Lady Rawhide became a vampire too? In issue 5, Lady Rawhide has regained her health and goes on to further battle, and there the series ends. Wold Newton scholar John Small believes that she went on to become a well-known vampire, with whom Lady Rawhide shares many shapely characteristics and attributes. Click here to read his article.
Summer 1814
SHARPE'S JUSTICE
Major Richard Sharpe tangles with a young Captain of the Yorkshire militia, George Wickham.

This is a British television movie based on Bernard Cornwell's Richard Sharpe novels. This might be the same George Wickham seen in Jane Austen's Pride and Prejudice. However, this tale is set in 1814, and the George Wickham seen here seems to be in his twenties or early thirties, while the George Wickham in Pride and Prejudice would have been in his forties by this point. Additionally, Sharpe's Wickham is still in the militia, while the Wickham in Pride and Prejudice takes a commission in the regular army at the end of that novel. Most likely, the Wickham seen here is George Wickham, Jr. Wickham junior would be a Wold Newton family member, as Wickham senior married Elizabeth Bennet's youngest sister in Pride and Prejudice, and Bennet, according to Farmer, was present at the meteor strike. In any case, the Wickham connection brings in Richard Sharpe, since Darcy and Bennet from Pride and Prejudice are mentioned prominently in Farmer's Wold Newton family tree. Richard Sharpe has at least three children; one of them appears in Cornwell's Starbuck series of Civil War novels, thus bringing that series into the Newtonverse.
1815 - Lord Ruthven is introduced in John Polidori's The Vampyre.
January 1817
BLOODED
George Gordon, Lord Byron, brings the Watcher Claire Silver "certain books" and fragments of Oriental scrolls, and hints he knows that Justine is the Slayer; Justine suspects something odd about Byron, too.

Perhaps Justine was sensing that Byron was an Immortal. Nancy Holder, co-author of this Buffy the Vampire Slayer novel, also wrote a Highlander novel, so she most likely knew of Byron's status in that series. This is not the "real" Lord Byron of "our" universe, but rather the version of the Lord Byron who exists in the Newtonverse, and who is the ancestor of many Wold Newton Family members. A mystery still remains regarding how Lord Byron could have descendants and also be an Immortal; perhaps Immortals can have children before they become Immortal, as stated in the latest Highlander film.
1817 - Birth of Allan Quatermain.

1819 - Die Bergwerke zu Falun (The Mines of Falun), as told by E.T.A. Hoffmann.
1822 - Birth of Harry Paget Flashman.
1827-1828 - The tale of Arthur Gordon Pym's expedition to the Antarctic, told by Edgar Allan Poe in The Narrative of Arthur Gordon Pym of Nantucket (most recently reprinted in the anthology The Antarktos Cycle, Chaosium, 1999). Later in his career, Pym will use the alias "Captain Nemo" as a cover for his own piratical activities.
March 22, 1829 - Artemus Gordon is born.
1829 - Birth of Erik, Opera Ghost.
1829 - Birth of Monsieur Lecoq.
1832 - Birth of Phileas Fogg, biological son of Sir William Clayton.
1834 - Birth of Sherringford Holmes.
1835 - Charles Dickens' Oliver Twist.
1835 - Birth of Colonel James Moriarty, son of Sir William Clayton and Morcar Moriarty. Curiously, he is the oldest of three brothers, all named James. Morcar's brother is Jerrold Moriarty. Jerrold becomes a favorite uncle and father-figure to the three Moriarty brothers.
1836 - Birth of Professor James Moriarty, son of master criminal Dr. James Noel and Morcar Moriarty. He is one of three men who will use the identity of "Captain Nemo."
October 20, 1837 - Miguelito Loveless is born.
December 1839-March 1840
THE SPHINX OF THE ICE FIELDS
This adventure contains many references to Arthur Gordon Pym. Captain Nemo's conquest of the South Pole is also mentioned by Verne in a footnote.

Jules Verne's sequel to Edgar Allan Poe's The Narrative of Arthur Gordon Pym, reprinted in the anthology The Antarktos Cycle, Chaosium, 1999. The cycle of stories continues in John W. Campbell, Jr.'s Who Goes There? and H.P. Lovecraft's At the Mountains of Madness, both also republished in The Antarktos Cycle. The mention of Nemo also ties in to Verne's own 20,000 Leagues Under the Sea.
1840 - Birth of James Douglas Henry, son of the legendary John Henry and grandson of Sir William Clayton (click here for more information).
1840 - Birth of James Moriarty (the third), the second son of Dr. James Noel and Morcar Moriarty. He will later assume the identity of his older brother, Professor James Moriarty.
1840 - Birth of Fu Manchu, son of Sir William Clayton and Ling Ju Hai.

c. 1840s - Events of James Buckingham's National Evils and Practical Remedies, with a Plan of a Model Town.

1841-1845 - C. Auguste Dupin's cases, as related by Edgar Allan Poe: The Murders in the Rue Morgue, The Mystery of Marie Rogêt, and The Purloined Letter. Michael Harrison continued the series with seven pastiches, compiled in The Exploits of the Chevalier Dupin. Gérard Dôle has collected more Dupin cases in The Adventures of C. Auguste Dupin, which are online in both French and English. In 1849, Dupin investigated Poe's death in The Murder of Edgar Allan Poe, as told by George Egon Hatvary. Dupin also went on to appear in The League of Extraordinary Gentlemen.
December 1841-early 1842 - The events of Moby Dick, as told by Ishmael, and related by Herman Melville.
1842 - A Christmas Carol, as related by Charles Dickens.
March 1, 1843 - James T. West is born.
1843 - The events of Robert Louis Stevenson's The Pavilion on the Links, found in the volume New Arabian Nights. Bernard Huddlestone, the prominent banker in the story, is the uncle of Morcar Moriarty, and therefore the great uncle of the three Moriarty brothers.
1844 - Young Phileas Fogg, adopted son of Sir Heraclitus Fogg, an original Eridanean, undergoes a blood-sharing ceremony which enables him to become a full human-Eridanean and which gives him a lifespan of one thousand years.

1844 - Bleak House, by Charles Dickens.
1844-1892 - Events of the historical novel Raintree County by Ross Lockridge, Jr.
February 12, 1847 - Birth of Mycroft Holmes.
1847 - Abner Perry is born in New England.
c. 1847 - The events of L'Assommoir, as told by Émile Zola.
1848 - Events of David Copperfield, as related by Charles Dickens.
| | |
| --- | --- |
| November 1849-January 1850 - C. Auguste Dupin investigates the death of his friend in The Murder of Edgar Allan Poe, as told by George Egon Hatvary. | |
September 14, 1850 - John Reid is born. He will become The Lone Ranger.
August 7, 1852 - Birth of John H. Watson.
January 6, 1854 - Birth of Sherlock Holmes at a farmstead in the North Riding of Yorkshire.
1854 - Tonto is born.
1855 - Events of Anthony Trollope's The Warden.
1857 - Birth of Lord John Roxton.
1857 - Victor Frankenstein III creates the second Monster in The Horror of Frankenstein (see Mark Brown's The House of Frankenstein and Chuck Loridans' Children of the Night for more information).
1858 - Twin sons are born to the first Professor James Moriarty. Throughout his long life, one twin will call himself "Wolf Larsen," "Baron Karl von Hessel," and simply "Baron Karl." The other twin is known as "Death Larsen."
1859 - Miguelito Loveless, Jr., is born.
1859 - First chronological appearance of Inspecteur Lecoq in Monsieur Lecoq by Emile Gaboriau. Click here to read Rick Lai's Monsieur Lecoq Chronology.
1859 - Prince Dakkar, a Capellean like his father, begins the Nautilus Project on a remote Pacific island, under the instructions of his Capellean chiefs. The submarines being built will combine Capellean technology with blueprints plundered from the Nine Unknown (see Talbot Mundy's tale Jimgrim and the Nine Unknown).
1860 - The events of The Curse of Frankenstein, in which Victor Frankenstein III creates a third Creature (see Mark Brown's The House of Frankenstein and Chuck Loridans' Children of the Night).
c. 1860s - The Story of Doctor Dolittle by Hugh Lofting (click here for more information).
c. 1860s - The events of Spring-Heeled Jack, the Terror of London, by Charlton Lea.

c. Early 1860s - The Siege of the Red House by J. Sheridan Le Fanu.

c. Early 1860s - The events of Charles Kingsley's The Water-Babies.
c. 1861-1862 - The main events of George Bernard Shaw's An Unsocial Socialist, which chronicles the life of John Clayton, the fifth duke of Greystoke, Tarzan's grandfather.
1861-1865 - Gone With the Wind by Margaret Mitchell.
December 1861-June 1862
THE REVENGE OF DRACULA
Upton Welsford, of the British Foreign Office, is committed to a sanatorium after a horrific experience with Count Dracula. Welsford records his experience in a manuscript, which finds its way into the hands of the head of a mental health clinic near Guildford in Surrey, Dr. Hugh Strickland.

Dr. Hugh Strickland provided the manuscript to Peter Tremayne in 1977, whereupon it was published by Dell Books, 1980. Dr. Strickland, shortly after turning over the manuscript, would go on to be a major player in The Vengeance of She. Since the She novels take place in the Wold Newton Universe, so does The Revenge of Dracula, which in turn brings in two other Dracula novels by Tremayne: Dracula Undead (aka Bloodright), and Dracula, My Love. The Dracula featured in these books is "Dracula-Prime" (see Chuck Loridans' Children of the Night for more information). Also of note, the female protagonist of The Revenge of Dracula is a woman named Clara Clarke. Clarke, of course, is a name which is not unknown in the annals of Wold Newton. Her father is named as Colonel George St. John Clarke of the Egyptian Rifle Brigade. Her mother is an Egyptian Princess named Yasmini.
1862 - Events of Alice's Adventures in Wonderland and Through the Looking-Glass (and What Alice Found There), as related by Lewis Carroll. See also Fantastic Alice: New Stories from Wonderland, Margaret Weis, editor, Ace Books, 1999.
1862 - Birth of Urania Caber Moriarty, daughter of Professor James Moriarty and Emily Caber. By this time, Professor Moriarty has been inducted into the secret ranks of the Capelleans.
1863 - Birth of Professor George Edward Challenger, father of Enid Challenger and grandfather of Lew Archer. Very late in his life, Professor Challenger must have had a son, who in turn had a daughter, Titania "Doc" Challenger.
1863 - Birth of Rudolf Rassendyll.
June 1863
There are references to the events of Five Weeks in a Balloon and The Adventures of Captain Hatteras.

A novel told by Axel Lidenbrock and edited by Jules Verne.
1863 - The events of Five Weeks in a Balloon, as recounted by Jules Verne.
1863
The opening leading to the Center of the Earth is mentioned.

The Adventures of Captain Hatteras is a novel by Jules Verne. Since the events of Journey to the Centre of the Earth take place in the Newtonverse, so do the events of this novel.
1863 - Prince Dakkar is indirectly responsible for the death of Professor Moriarty's wife and two of their twin children, James and Emile Caber. Only their other twin children, "Wolf Larsen" and "Death Larsen," and their fifth child, Urania Moriarty, survive. Vowing revenge, Moriarty encourages Rajah Dakkar of Bundelcund, the Prince's father, to go renegade from the Capelleans. In turn, Prince Dakkar also becomes persona non grata with the Capelleans. However, Prince Dakkar continues with the submarine project on his own.
1864 - Plantagenet Palliser's first appearance, in The Small House at Allington, as told by Anthony Trollope.
1864 - In accordance with his own plans, the first Professor Moriarty (the second Moriarty brother) is ordered by the Capelleans to infiltrate Prince Dakkar's group and begin working for the Prince on the secret construction of the two atomic submarines, adding his own genius to Capellean technology. Both of these underwater craft will be named the Nautilus. Following orders which comport exactly with his private need for personal revenge against Prince Dakkar, Professor Moriarty stages a rebellion, steals one sub, and sabotages the second sub, severely injuring Prince Dakkar with radiation poisoning. However, Dakkar overcomes his illness and succeeds in repairing the remaining Nautilus.

1864-1865 - The events of Jules Verne's The Children of Captain Grant (aka In Search of the Castaways aka Les enfants du Capitaine Grant). Towards the end, in March 1865, a villain named Ayrton is stranded on a desert island.
1865 - The events of E. Harcourt Burrage's Broad Arrow Jack.
1865 - Carmelita Loveless is born.
October 1865
The members of the Baltimore Gun Club finance the first recorded attempt to reach the Moon. On board the capsule is Michel Ardan.

Novels by Jules Verne. The Gun Club was also mentioned in Verne's The Purchase of the North Pole and Rosny & Farmer's Ironcastle. Michel Ardan may be related to Dale Arden; see The Amazing Lanes for more information.
1865 - Prince Dakkar creates the identity of "Captain Nemo" and launches his submarine Nautilus. Upon being apprised of this intelligence by a Capellean spy whom Professor Moriarty left in Dakkar's camp, Moriarty launches his own Nautilus, also going by the name "Captain Nemo." Moriarty's goal is to commit as many heinous, reprehensible, and criminal acts as possible, all the while having them attributed to Dakkar. Young Phileas Fogg is placed among Moriarty-Nemo's crew as a spy for the Eridaneans; he is ultimately successful in sinking Moriarty-Nemo's second Nautilus in 1868. It is also possible that Moriarty-Nemo's first sons, Wolf Larsen and Death Larsen, serve as cabin-boys on this Nautilus.
END OF PART II
---
Go To
---

---
The Wold Newton Universe Crossover Chronology was created for the sole purposes of entertainment and information.
All rights reserved. The text and design of this page are © 1997-2004 by the author, Win Eckert. No copying or reproduction of this article or any portions thereof in any form whatsoever is permitted without prior written permission and consent of the author.
(This means that if you want to post your own version of Wold Newton continuity and wish to post the text of this Chronology, in whole or in part, as a basis for your version of the continuity, you are legally obligated to ask my permission first.)
The author claims no interest in nor ownership of any images used in the creation of this site, with the exception of the Wold Newton banner, which is © 2000-2004 by Lisa Eckert.