This series was begun in the mid 1970's when Farmer had a writer's block that would not allow him to work on the books that his fans were waiting for; the next installments of The World of Tiers and Riverworld series. By writing as Kurt Vonnegut's character, sad sack science fiction author Kilgore Trout instead of himself, the writer's block disappeared, then he just kept on going.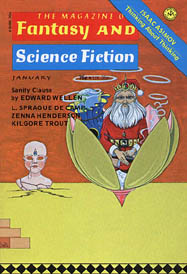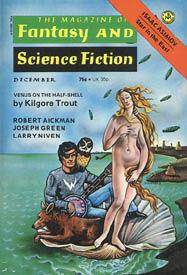 Venus on the Half-Shell
December, 1974/January, 1975
By Kilgore Trout
Stuck with writer's block that would not allow him to write about his own worlds, and thus work on his two major series of books, Farmer decided to write as if he were Kilgore Trout, a character in many of Kurt Vonnegut's novels. Once permission was granted the ideas came pouring out and Farmer had no problem writing, as long as he wasn't writing as himself. Most of the book was serialized in two issues of The Magazine of Fantasy and Science Fiction.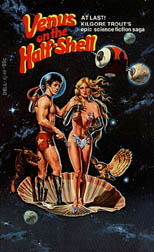 VENUS ON THE HALF-SHELL
1975
By Kilgore Trout
This book was a 90-day wonder as fans and critics tried to figure out who wrote the book since Vonnegut claimed he had nothting to do with it.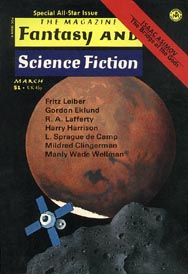 A Scarletin Study
March, 1975
By Jonathan Swift Somers III
The second story in the Fictional Author series. Jonathan Swift Somers III is the favorite author of Simon Wagstaff (the main character from Venus on the Half-Shell). Ok, so we have here a story by a fictional author from a story by another fictional author. The best part is that the story is about a German Shepard with a 200 IQ and deductive abilities rivaled only by Sherlock Holmes himself. The story begins similarly to A Study In Scarlet where the great detective meets his side-kick and chronicler. Full of puns, in both German and English, this story showed great promise as the beginning of an interesting detective series.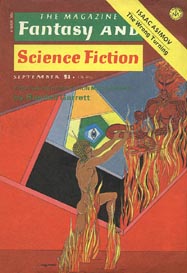 The Problem of the Sore Bridge-Among Others
September, 1975
By Harry Manders
Installment number three in the Fictional Author Series. Sherlock Holmes fans may recognize the title. In the begining of The Problem of Thor Bridge, Watson briefly mentions some details of three cases which Sherlock was not able to solve. Here another of Farmer's heroes, Raffles, the famous gentleman burgler, manages to solve all three mysteries in one neat little story.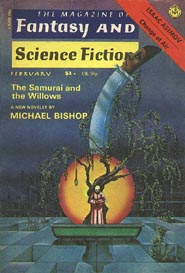 The Volcano
February, 1976
By Paul Chapin
Story number four in the Fictional Author Series. Paul Chapin is a ficitonal author in the Nero Wolfe mystery novel THE LEAGUE OF FRIGHTENED MEN by Rex Stout. This story is a detective story about a volcano that suddenly appears in the Catskills.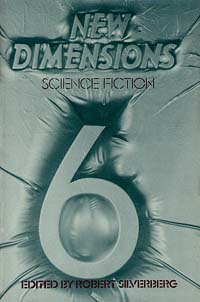 Osiris on Crutches
1976
By Queequeg Tincrowder
A character in The Two Edged Gift is a science fiction writer named Leo Queequeg Tincrowder. In the story he describes the myth of Osiris and the story he wrote about it.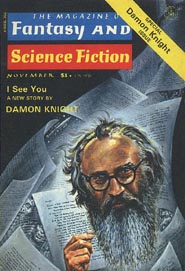 The Doge Whose Barque Was Worse Than His Bight
November, 1976
By Jonathan Swift Somers III
The second story about Ralph von Wau Wau the German Shepard with the 200 IQ. In this story Ralph meets his new side-kick, Cordwainer Bird and tackles his toughest adversary to date, another genetically enhanced animal.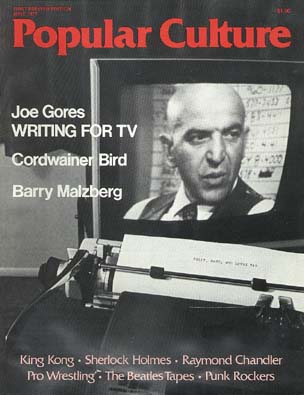 The Impotency of Bad Karma
1977
By Cordwainer Bird
Besides being a character in The Doge Whose Barque Was Worse Than His Bight, Corwainer Bird is the name that Harlan Ellison lists in the credits, in place of his own, for tv and movie projects that don't live up to his standards. The story is about how fragile a writer's ego is, and just how important is a good review can be.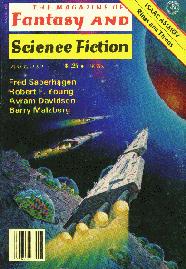 It's the Queen of Darkness, Pal
August, 1978
By Rod Keen
The final fictional author story, this one is by a character in a Richard Brautigan novel. A horror story about what might be waiting for you down in the sewers.