These stories were written in the mid 1970s for WEIRD HEROES a series of books that were trying to recapture the feeling of the pulp magazines of the 1930s and 1940s. The final story is one of the funniest Farmer has ever written. The stories were collected and published as GREATHEART SILVER in 1982.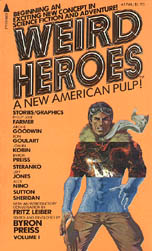 Greatheart Silver
1975
The original idea for Weird Heroes was to recreate the pulp heroes of yesterday in a new serialized book. Farmer jumped at the chance and created a new character called Greatheart Silver. In this story, originally called "Showdown at Shootout" Farmer parodies every pulp hero you ever heard of, and bunch you probably haven't.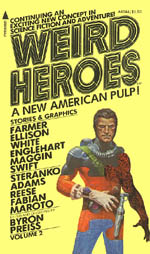 The Return of Greatheart Silver
1975
In this story Greatheart has been black balled by one of the wealtiest and most influencial men in the world. It's a great surprise when that same man hires Greatheart to rescue his kidnapped daughter. A fun action story.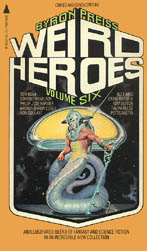 Greatheart Silver in the First Command
1977
My favorite Greatheart story, Murphy's Law gone beserk.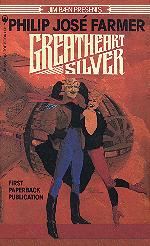 GREATHEART SILVER
1982
Short story collection:
Greatheart Silver
The Return of Greatheart Silver
Greatheart Silver in the First Command