While Riverworld is Farmer's best known series, informal polls done at this web page have shown that the Science Fiction Book Club collections of the World of Tiers novels, have introduced more fans to Farmer than anything else. Considered by some critics to be more adventure tales that science fiction, the first book, THE MAKER OF UNIVERSES, did introduce the idea of "Pocket Universes". Also, Farmer's most loved protagonist Kickaha, romps through most of these books outdoing Tarzan himself for daring feats of skill and strength.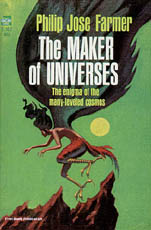 THE MAKER OF UNIVERSES
1965
Book one of the World of Tiers series. Robert Wolff blows a special horn and finds himself in another universe. In a short time his hair grows back, he loses the extra weight around his middle and he gets younger. Then the adventures begin. Kickaha the Trickster, Paul Janus Finnegan (note the initials) is the person Philip José Farmer said he wishes he could be. Farmer at his best, a lot of action and his incredible imagination.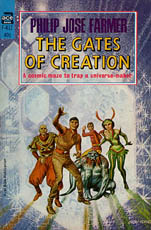 THE GATES OF CREATION
1966
Book two of the World of Tiers series. I was disappointed because this book centers on Robert Wolff (Jadawin) where book one was about Jadawin and Kickaha. Jadawin's wife is kidnapped by another Lord and to get her back he has to travel to another world which was designed for the purpose of trapping him.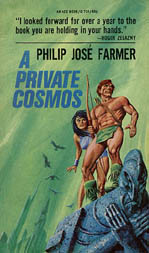 A PRIVATE COSMOS
1968
Book three of the World of Tiers series. My favorite of the Tiers books, all adventure and all Kickaha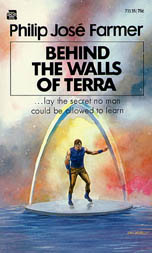 BEHIND THE WALLS OF TERRA
1970
Book four of the World of Tiers series. Kickaha finds himself back on earth, which he discovers is not a real planet but a pocket universe made by Red Orc.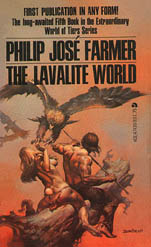 THE LAVALITE WORLD
1977
The long awaited fifth book of the World of Tiers series. Farmer's inspiration for this book was a lavalamp he saw in a publisher's office one day. Now we have a world created by a Lord where the land is constantly in flux. Here Farmer's ability to create a strange alien world, meets his ability to write adventure as never before.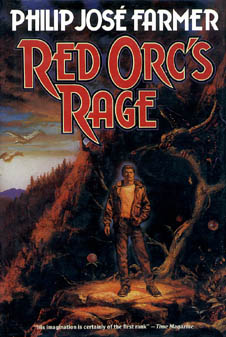 RED ORC'S RAGE
1991
Book six of the World of Tiers series. A psychiatrist uses the World of Tiers as a method of therapy (this is true). Farmer takes the next logical step and writes about a patient who actually manages to travel to other universes.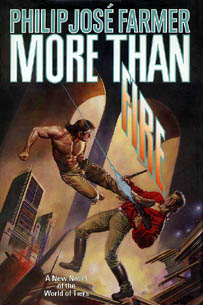 MORE THAN FIRE
1993
Book seven of the World of Tiers. The conclusion of the series. Kickaha and Red Orc battle for control of all the pocket universes and to discover the lords' secrets.