EVENTS
50th Anniversary Celebration of The Lovers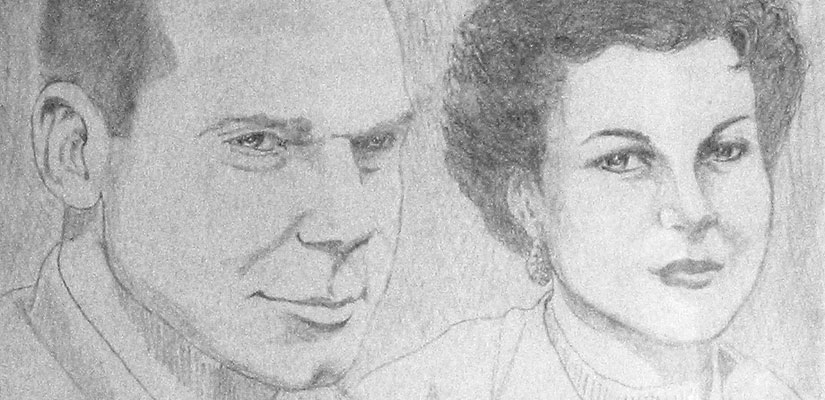 On August 10th, 2002 the Peoria Public Library hosted a 50th Anniversary Celebration of Philip José Farmer's first science fiction story The Lovers. Michael Croteau and Rick Beaulieu, the webmasters of The Official Philip José Farmer Home Page were invited to participate in the planning of the event. Science fiction author, and personal friend of the Farmer's, Tracy Knight came up with the idea of contacting some of Phil's contemporaries and asking them to contribute to the celebration by sending letters to Phil about The Lovers.
Before we had time to do our own, Lee J Barrie put up a very nice web page about celebration. Right after that, Zacharias Nuninga put up an outstanding web page about the celebration. So what is left for Rick and I to do?
We'll just mention a few things not covered in the above pages. Jason Robert Bell did a series of pictures about The Lovers and had them on display. At the back of the room Mike and Rick were selling some great Farmer items; copies of unpublished manuscripts and some hardcovers from Philip José Farmer's basement as well as some custom hats and bookmarks.
Both Lee and Zacharias' web page mentioned that Tracy Knight read the letters to the audience that were received from Phil's fellow science fiction writers. Here is some digital video footage of Tracy reading Kilgore Trout's letter:
The volume is a little low so here is what Tracy is saying, in case you want to read along: Before the recording begins Tracy is saying that he wasn't sure if this letter was authentic because it came in unsolicited and without a return address. "I don't understand what the big deal is. Years before Farmer sold a sex story to a science fiction magazine, I was selling science fiction stories to sex magazines. So it goes. Kilgore Trout. Now the only reason I wasn't suspicious is that the P.S. sounded consistent, it said P.S. I'm not dead, I just smell funny."
Phil and Bette Farmer have both said that they had a wonderful time and appreciated all the fans traveling so far to honor Phil. Rick and I would like to again say thanks to Shannon Robicheaux for the artwork he contributed to the booklet and to Tracy Knight for obtaining all the great letters from Phil's colleagues.